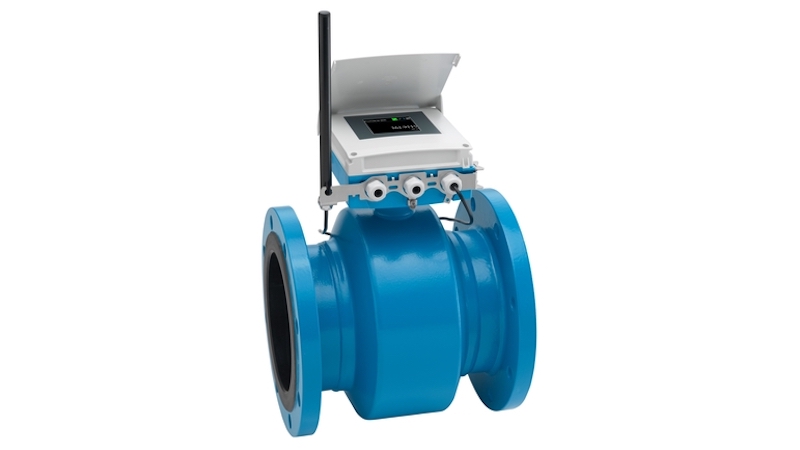 The extraction and transport of water often takes place in remote areas where there is no possibility of supplying measuring devices with power or transmitting data via wire lines.
For these such applications, Endress+Hauser has developed the innovative Promag W 800 flowmeter with battery-powered operation that allows maintenance-free operation for up to 15 years as well as secure data transfer worldwide via cellular radio.
Promag W 800 is capable of measuring sea water, river water, spring water, ground water, drinking and process water in pipelines with DN 25 to 600 (1 to 24").
Thanks to its comprehensive functions and expansion options, Promag W 800 enables the safe monitoring of water flows as well as long-term economical operation: reliable consumption measurements, exact cost allocation for billing, safe monitoring of water networks (quantities, limit values, etc.) as well as targeted leakage detection in distribution systems, e.g. by water balancing between two measuring points or by reading in pressure changes due to water loss.
Promag W 800 is available in different configurations: with or without cellular radio communication as well as with connection options to customer-specific SCADA systems, or to Endress+Hauser's cloud-based Netilion Water Network Insights solution for monitoring water networks.
This allows, for example, flow rate, pressure, totalizer, device/process status, battery charge status or geodata to be retrieved. The end-to-end encrypted data transmission ensures maximum safety.
Flowmeters are often exposed to heat, dust or climatic fluctuations, and installation under water or underground can be even more demanding. For this reason, the fully welded Promag W can be ordered with a certified corrosion protection (EN ISO 12944) as well as with IP68 (Type 6P) degree of protection. Both ordering options guarantee long-term operation even in salty environments or in climatic areas with strongly changing humidity and/or temperature.
In the 24-hour operation of the water business, the removal of flowmeters for mandatory recalibrations is often not realistic. Thanks to Heartbeat Technology incorporated into the Promag W 800 it is still possible to carry out a device verification during operation and thus prove compliance with the specified measuring accuracy.
The verification protocols are automatically archived, e.g. for later audits. In consultation with the Weights and Measures Service, even legally required calibration intervals can be extended.