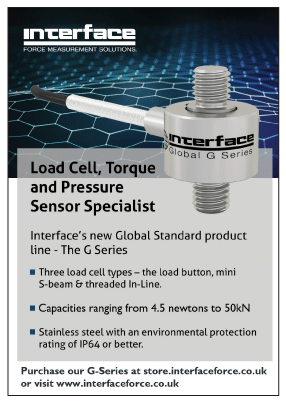 Interface Force Measurements, suppliers of the 1200 precision load cell series, have announced the launch of a brand new E-commerce website where customers will be able to order their load buttons, in-line load cells and mini s-beam load cells.
Having gone live on the 1st of April, store.interfaceforce.co.uk features the Interface G-Series of load buttons, in-line load cells and mini S-beam load cells. The Interface G-series has all the quality, reliability and performance expected of a force transducer bearing the Interface name, but at very competitive prices.
The site offers Interface Force Measurements' G-Series load cells on short lead times, with next business day delivery for small quantities being the aim.
The Interface G-Series was launched around one year ago, becoming a popular product range with students, industrial engineers, OEMs and anyone requiring a small form force sensor offering accuracy, repeatability and Interface quality.
All G-Series load buttons and load cells feature:
* Full stainless steel construction
* Individual calibration certificates to NIST traceable standards
* High output at 2mV/V
* Capacities from 4.5newtons to 50kN