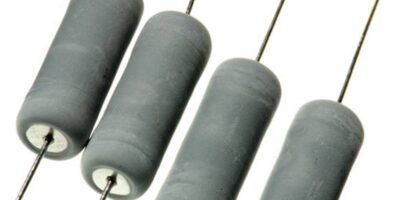 TT Electronics has announced the release of its new high surge, UL-recognized, fusible resistor family – the WHS-UL Series.
Developed for inrush control applications, such as power supplies, UPS, energy metering, and motor drives, TT's WHS-UL resistors offer enhanced surge and pulse energy withstand capability.  
"With TT's new WHS-UL series, designers will find it possible to meet a range of surge requirements – either with a larger safety margin or in a smaller body size – due to its specially-designed, high-energy windings," said Brian Stephenson, Engineering Director, TT Electronics. "At the same time, we are supporting our customers in the rapid achievement of their EMC and safety testing goals with this safety agency-accredited product."
As a UL1412-recognized fusible resistor (UL file E234469), the WHS-UL provides failsafe fusing at 120 / 240Vrms with a UL94-V0 flameproof coating. Available in 2, 3 and 5W sizes and at E24 values from 10 to 100 ohms, these resistors offer up to 30J of surge energy capacity and as much as 7kV peak 1.2/50µs performance.
The resistors also guarantee safe fusing in fault condition overloads from as low as 30W. The WHS-UL is available in a wide range of lead preforms, including vertical radial form in tape and ZI form for SMD processing.