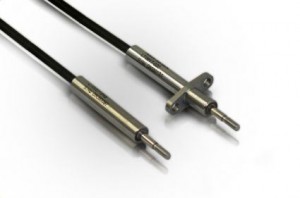 Active Sensors have introduced the micro-slim, 6.0mm diameter LVDT sensor designed for specifically automotive and aerospace control and measurement systems. The LT0600 design is achieved utilising the latest 'layered' coil winding techniques coupled with the correct choice of encapsulation compounds to survive an environment suffering severe vibration and temperatures in excess of 200°C. Additionally, an accuracy of 0.5% or better is offered to accurately measure throttle, clutch and brake calliper movement.
About Active Sensors
Active Sensors design and manufacture a wide range of rotary and linear position sensors for motion control and measurement systems. They specialise in contactless and potentiometer technology to produce sensor specifications to the highest quality and performance standards. The success Active Sensors has achieved stems from an innovative and creative approach to precision engineering. This focused approach makes them the number one choice for control engineers worldwide. Active's sensor designs are robust in construction and the company has developed their technology by the selection of the highest-grade materials, coupled with the most rigorous environmental testing.