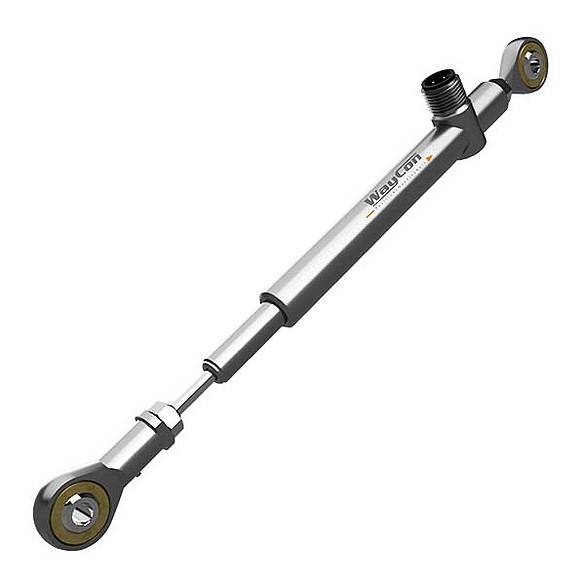 Waycon is expanding its LVDT (Linear Variable Differential Transformer) series with the release of the new LV-G. Equipped with rod end bearings, these inductive sensors can be directly attached to the object to be measured. Here, the self-orienting rod end bearings facilitate the absorption of transverse force.
Attachment via rod end bearings is ideal for installation at the end of a piston rod or the base of a hydraulic cylinder. Regular relubrication of the rod end bearings by the user can also prolong the life and increase process safety.
LVDTs are position sensors with coil technology that consists of one primary and two secondary windings. The core inside the coil achieves high magnetic permeability and temperature resistance by means of a special iron-nickel alloy. By supplying the primary winding with alternating voltage, voltage is induced in the secondary windings via the core. The opposing voltages of the funnel-shaped secondary windings offset one another when the core is in the centre position. The positional change to the core creates an opposing voltage change in the coils, which is transformed into an analogue output signal of (0…10 V / 4…20 mA) via a measurement amplifier.
The inductive sensors in the LV-G series cover measuring ranges of up to 25 mm with a linearity of up to 0.1 %. The sensors have a nickel-plated steel housing with a protection class of IP65. Thanks to the innovative coil technology, the LVDTs are suitable for temperature ranges up to +200 °C and have a resolution of <1 μm.
WayCon has developed the LVDT LV series sensors from the ground up. In addition to the innovative coil technology, a special sealing concept and an individual bearing guide have also been developed to ensure a high degree of protection and load capacity.