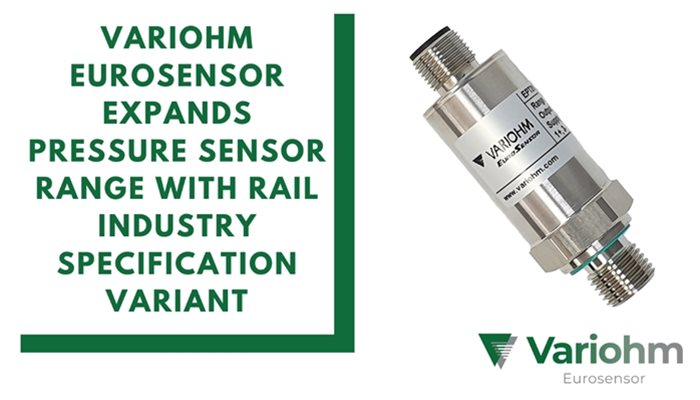 Variohm EuroSensor continues to expand its range of pressure sensors with a new variant that meets the rigorous environmental and performance requirements of the rail transport industry. 
Tested to EN rail industry standards for EMC, vibration, shock, and corrosion resistance the new EPT3100R is available with IP66 or optionally IP69K protection. Twenty gauge-pressure range options from 0.6 bar to 2000 bar are offered with a +/- 0.5% full-scale accuracy @ RT including nonlinearity, hysteresis, repeatability, calibration, and offset factors. With a 4 … 20 mA output from a 14.4 to 33.6 V supply, a wide choice of pressure ports in 17-4 PH stainless steel and a durable 22 mm diameter 304 stainless steel housing, the sensor provides durability, high strength, and excellent corrosion resistance at temperatures up to 105°C.
The new EPT3100R is a development of Variohm's well-established EPT pressure sensor series, a series which has gained a high reputation over several years of production for demanding pressure measurement applications for gases and liquids compatible with stainless steel – in industries as diverse as autosports, process engineering, medical equipment, and agricultural machinery. These piezoresistive sensing element-based sensors employ the latest ASIC circuit technology to ensure excellent accuracy, wide flexibility in the choice of electrical output and pressure port selection, and high measurement precision, linearity, and repeatability.
A choice of electrical connection includes an M12x1 round connector or a 600 mm cable that can be supplied as part of a moulded assembly for IP69K sealing. These characteristics combine for a rail industry compatible pressure sensor with performance specifications that also ensure excellent stability, fast response time, generous overpressure and burst pressure credentials for trouble-free operation.
Variohm EuroSensor also markets its own rail industry compatible temperature sensor based on the well proven PT100 measurement element. The 22 mm diameter ETP21R includes 17-4  PH stainless steel wetted components and has been tested to the relevant rail industry performance and environmental standards. With a measurement range of  -40 to +125 °C and a maximum static operating pressure up to 160 bar, the sensor has a 4 … 20 mA output and a total error of +/- 2.0% FSO over a temperature range of -20°C to +85°C.