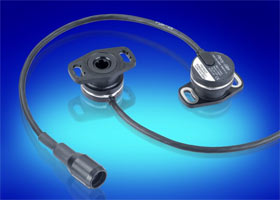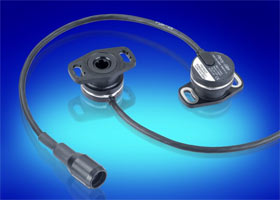 Penny + Giles, designer and manufacturer of high reliability position sensors for the motorsport industry, has launched a new throttle position sensor with dual outputs, TPS280DP, at Professional Motorsport World Expo 2009.
The new sensor, which incorporates a factory programmable Hall effect sensor has two outputs that can be programmed individually for angular range, output range and direction.  TPS280DP is mechanically interchangeable with most existing throttle potentiometers using 32mm mounting centers and is designed to interface with most common throttle body D type spindles.  The sensor is available with 200mm or 500mm cable lengths, with or without an MSS4P Mini Sure Seal connector fitted to the DR25 sheathed spec 55A cable.
TPS280DP can operate from either a 5Vdc regulated or 9-30Vdc unregulated power supply and has over-voltage protection to 40Vdc.  It can be supplied programmed with any one of 341 different angles in the range 0-20 to 0-360 degrees in one degree increments and has a 12 bit resolution (0.025%) over the selected angular range.
TPS280DP has no contacting sensor parts, which ensures there is no signal degradation over the lifetime of the sensor.  The sensor has a tested life of more than 20 million operations – more than six times the life of an equivalent potentiometer. When powered with 5Vdc, the TPS280DP has an operating temperature range from -40 to +140ºC, with a stability of less than ±30ppm/ºC.
For ease of configuration, TPS280DP is available with analog (0.5 to 4.5Vdc) or digital (Pulse Width Modulated) signal outputs as standard, but can also be factory programmed to offer 0.1 to 4.9Vdc output range, matching the equivalent signals from a potentiometer.
The sensor has been specifically designed to work in harsh motorsport environments and has excellent shock and vibration resistance.  The sensor drive and body are totally sealed to IP69K, for a high level of protection against the ingress of dust, fluids and pressure cleaning.