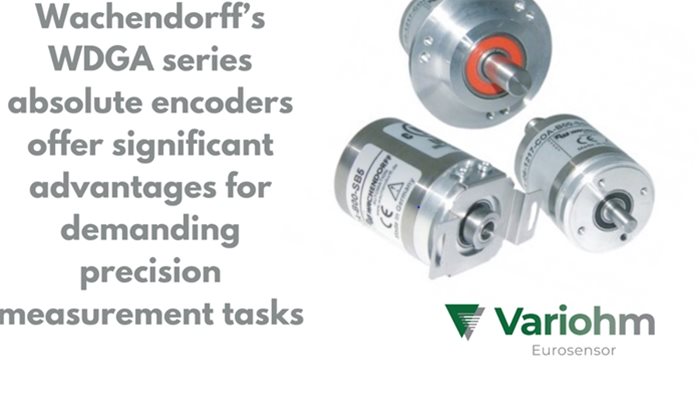 Wachendorff's new WDGA series multi-turn absolute encoders offer highly precise performance, robustness, and long working life for precision measurement and motion control applications across a broad range of industries.
Available with full support from Wachendorff's exclusive UK distribution partner, Variohm EuroSensor, the WDGA series' extensive choice of housing styles, shaft dimensions, safety, and protection levels offers maximum application matching flexibility, which is further complemented with the wide choice of communication interfacing options including CANopen, CAN SAE J1838, SSI and RS485, PROFINET, PROFIBUS, EtherCAT and a UniversalIP version.
With a single turn resolution of up to 16-bits and a multiturn capability to 43 bits, the German sensor specialist's EnDra® magnetic encoding technology offers an angular measurement accuracy of +/- 0.09°, coupled with a feedback cycle time up to 50 µsec that suits high performance servo drives. The microprocessor-based Hall-effect scanning principle provides a compelling and cost-effective alternative to more fragile linear and rotary optical encoders.
The WDGA series magnetic and non-contacting Endra design offers many significant performance benefits. Unlike competitive multi-turn absolute encoders, the technology does not require a wearprone gearbox and has a very low current consumption from a regular 10 … 32V DC power supply without the need for batteries. These benefits help contribute to much-reduced axial length dimensions, even when considering an amply designed bearing arrangement that allows significantly high axial and radial shaft loads – ensuring maximum compactness whilst maintaining excellent durability for demanding heavy-duty measurement tasks.
As standard, housings and shafts are IP65 sealed with IP67 and IP68 options through the WDGA series, whilst a choice of synchro flange, clamping flange, or blind hollow shaft mounting is available in housing diameters of 36 and 58 mm. The variously available communication options include data output for position, speed and acceleration, encoder cam, plus scaling capability and comprehensive diagnostics – all backed up with commissioning and interfacing software.
With virtually no maintenance required, the WDGA series has an extremely long working lifetime. Application areas for Wachendorff's WDGA series absolute, and other encoder product lines and measurement systems include, but are not restricted to, construction and agricultural machinery, wind energy, crane & hoist, AGVs, machine tool, food and beverage, packaging and many more.