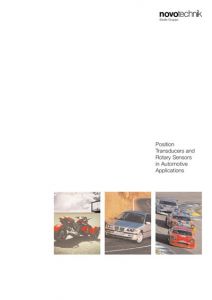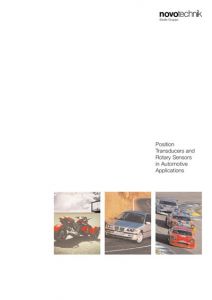 Continuing its themed subject brochures for rotary and linear sensor applications, Novotechnik has released a new four page overview on the interesting uses for its products within the automotive industry. Available from Variohm EuroSensor, Novotechnik's exclusive UK distribution partner, the brochure covers ' throttle-by-wire' and ' steer-by-wire' concepts and other sensor products that help to provide optimal engine management and reduce vehicle weight with durable and redundant mission-critical devices.
The range is used in production vehicles for throttle and pedal position, steering, gear selection, 4-wheel drive control, and many other areas and in addition the motorsports industry chooses Variohm and Novotechnik for these areas as well as ride height and suspension position feedback sensing.
Novatechnik has produced the resource brochures to demonstrate to OEMs and equipment designers the wealth of possibilities that position feedback can bring to their manufactured products. The range covers potentiometric contacting, and Hall Effect non-contacting and touchless position and angle sensors in standard or customised designs for high shock and vibration applications in temperature ranges from -55 °C to 140 °C. Protection levels up to IP69 are fully available and many models can be supplied with redundancy up to SIL 3.