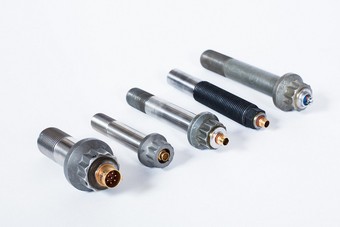 Strainsert Inc. has announced new selection and configuration resources for load pin/clevis pin applications along with a new quick ship programme for its CPA series load pin product line. Also announced is an on-demand force sensor calibration certificate service. With local UK & Ireland sales and product support available through Strainsert's distribution partner, Ixthus Instrumentation, these new resources and on-line tools will help customers select and configure load pins more effectively and efficiently, make product traceability measures more straightforward as well as identify products where urgent delivery is essential.
Strainsert's load pins or clevis pins and other force measurement components feature a well proven sensor design that includes an innovative and patented internal gauging process. Its load pins, available as standard components or customised solutions, harness this sensor technology to provide precision force measurement feedback integrated into shear pins, clevis bolts, load pins and shear axles etc. The technology replaces existing pinned joint structural components with separate external load sensors such as used in load monitoring tasks for industrial, aerospace, automotive, marine, and military machinery and equipment.
The new resources are grouped as follows:
Custom load pin configurator
On demand, force sensor calibration certificate service
Selecting the optimal Strainsert load pin
New quick ship program for CPA series force sensing load pins
The new custom load pin configurator is a web-based Java utility that allows engineers and designers to quickly and efficiently determine application feasibility by selecting one of six load pin configurations and simply inputting nominal dimensional and load parameters to generate a conceptual load pin design. From this initial information Strainsert can complete and formalise a proposal through Ixthus that meets the application requirements.
This process may be assisted by reference to a new document available on the Ixthus website entitled Selecting the optimal Strainsert load pin. This 5-page resource identifies the necessary steps with hints and tips to determine the mechanical and electrical criteria required for a given application.
Where Strainsert's force sensor calibration service is required customers that own the original force sensor the calibration was completed on can now access the information directly, on-demand. This is particularly useful for engineers involved in commissioning manuals and other documentation that requires certifying traceability of the measurements. Strainsert's calibration facilities enable certification of all manufactured force sensors produced at its manufacturing site up to a capacity of 250 t (500,000 pounds) capacity. These force measurements are performed in a controlled environment by a highly-trained and experienced staff and are traceable to the National Institute of Standards and Technology (NIST). Ixthus Instrumentation are pleased to assist UK and Ireland customers with this service.
Strainsert has also announced a new quick ship program for a selection of its CPA series of force sensing load pins. The CPA series provides precision force measurement where structural pinned joint component are used and require monitoring. Replacing the customers load pin component and its separate load sensor with a one-piece solution, the standard range is available in nominal pin diameters from 3/8" to 2.75" with load capacity up to 50 tons. Several of the models are available from stock for fast delivery. Ixthus Instrumentation are pleased to assist UK and Ireland customers where urgent replacements are required for load pins and all types of load and force related components. Also available, Strainsert's CBA series load bolts feature threaded sections for more straightforward installation where required.