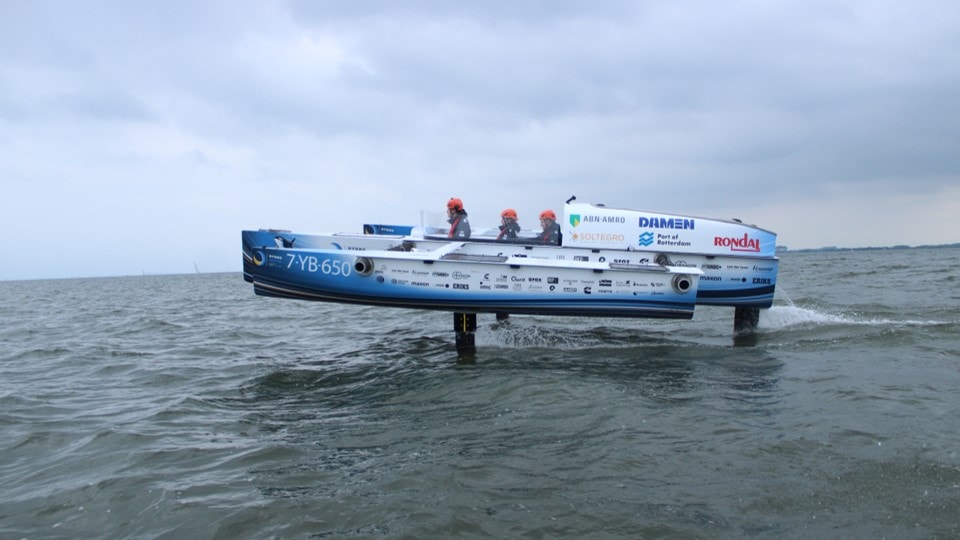 Senix ToughSonic 14 Ultrasonic Level & Distance Sensors have been selected to control the above-surface lift and height of the world's first flying hydrogen boat.
The Delft University of Technology's Solar Boat Team designed, tested and built the 'Hydro Motion' vessel to inspire the maritime industry to pursue a green future, with hydrogen power offering zero emissions and a single residual product – water. A 20-member student-led team put their studies aside for a full year to make the Hydro Motion project happen.
The vessel is fitted with a hydrogen fuel cell, fuel tank and three hydrofoils that lift the one-ton trimaran more than a foot above the water. Its hydrogen gas fuel is stored under high pressure in an on-board tank. The fuel cell combines this hydrogen with oxygen from the air to generate electricity, which powers the motor. The boat is operated by three pilots and reaches speeds of up to 22 knots.
The TU Delft Team selected Senix ToughSonic 14 Ultrasonic Level & Distance Sensors to control the lift and height of the boat above the water's surface. The boats three sturdy hydrofoils are fitted to the bottom of the hull, like an America's Cup yacht. Once reaching a speed of about 12 knots, the flying boat generates enough lift to raise the hull about 15 inches out of the water. This drastically reduces hull resistance and lowers the energy requirements for propulsion.
During testing, the team discovered Senix ToughSonic 14 sensors provided the speed, flexibility and accuracy needed to control these critical functions. ToughSonic sensors are extremely tough, made in 316 stainless steel housing, with potted in cable and electronics and are IP68 rated to withstand the extreme conditions of flying over fresh and salt water at high speeds.
"We succeeded; we can say that with certainty," said Rick van Wilsem, the project's chief engineer. "The entire boat has come out of the water. We are proud to announce with the team that we have made the world's first foiling hydrogen boat!"