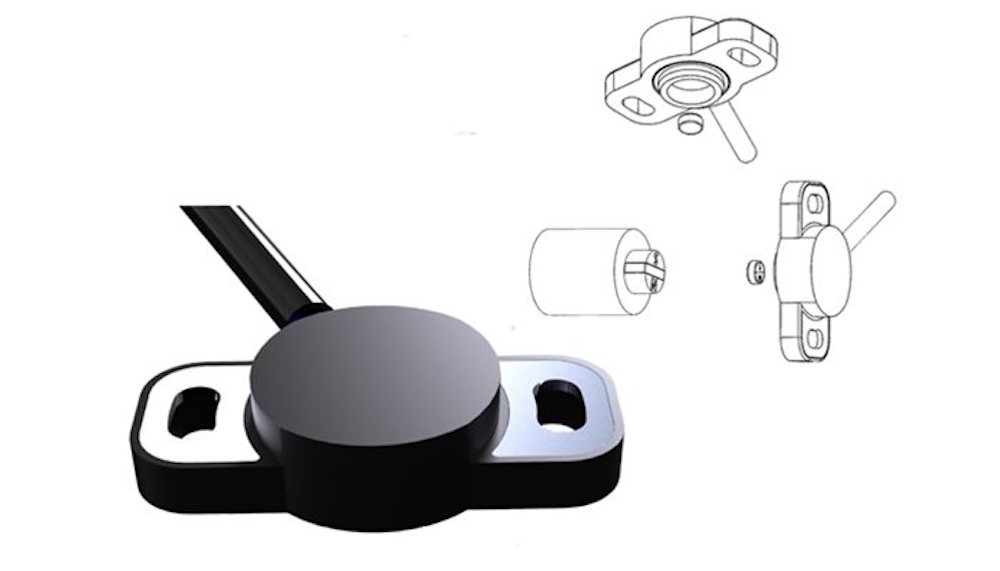 Phoenix America has released a new range of absolute rotary position sensors which provide 12-bit resolution position measurement with standard or user-specified output curves from 60° to 360° total range.
Intended for use in demanding heavy engineering, agricultural and construction equipment installations, the R2 series' non-contacting Hall effect design – comprising a compact reinforced nylon sensor housing and a separate magnetic position marker – offers improved durability with operational temperatures from -40 to +125°C.
The R2 series sensor housing is mounted via two slotted holes on a 38 mm PCD – allowing rotary adjustment for precise magnet alignment. Typical installation would include a shaft-mounted target magnet axially aligned with an approximately 1.27 mm air gap, but customer specific configuration can be accommodated on request.
Powered from a 5 VDC supply voltage, interfacing flexibility is assured with ratiometric output and a push-pull output stage that allows the use of pull-up or pull-down resistors.
Standard or inverted output curves are available from +/-30° to +/-180° in 60° increments with angle-proportional output across 0.5 to 4.5 VDC and with the 0° mid-range point at 2.5 VDC. The R2 is available in a choice of analogue or PWM output versions.
Absolute output means no need for zero positioning or datum routines once the sensor is installed. The robust, durable build quality of the R2 is completed with a choice of cable lengths to 2 m and optional industry standard Deutsch or Metri-Pack connectors. Electrical protection includes reverse polarity, transient suppression and output short circuit.
Following its recent acquisition by the Variohm Group, Phoenix America's range of sensor components are available with complete technical support from Variohm EuroSensor.