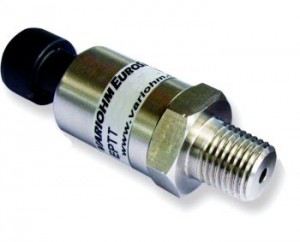 Variohm EuroSensor has released a new combined pressure and temperature sensor as part of its competitively priced EPT pressure transducer range. The new EPTT5100, available in a 0-1000 Bar range with other pressure ranges on request, has IP66 sealing and high strength stainless steel construction with 316 grade used for maximum resilience on wetted parts. The combined sensor uses a high level ASIC output circuit and a tried and tested thin-film strain gauge pressure measuring cell that contains no silicon or oil and no internal O-rings for safe and reliable operation.
With space saving and installation advantages for the measurement of gas or liquid pressures and temperatures in hostile environments from – 40℃ to + 150℃, both sensor types provide an accuracy of more than +/- 0.8% and linearity within 1%. Furthermore the durable pressure sensor has an overrange rating of 4x rated, and burst pressure to 6x rated. The EPTT5100 has a very high resilience to shock and vibration and its long life design is rated at more than 10 million pressure cycles for fit and forget operation.
The 22mm diameter industry standard unit has various pressure port options and has a single power supply voltage from 10-30 VDC with pressure output range of 0..5 VDC and temperature range is 0.25…4.75 VDC. A M12 Connector is the standard electrical connection with other options are available.
Like its counterparts in the EPT pressure sensor series, The new EPTT5100 combined pressure and temperature sensor is aimed at demanding applications across industry and motor sports including construction and agricultural machinery, HVAC, hydraulic equipment, refrigeration and many more.
Through the EPT pressure sensor series, pressure ranges are available from 0..0.25 Bar to 0..4000 Bar.