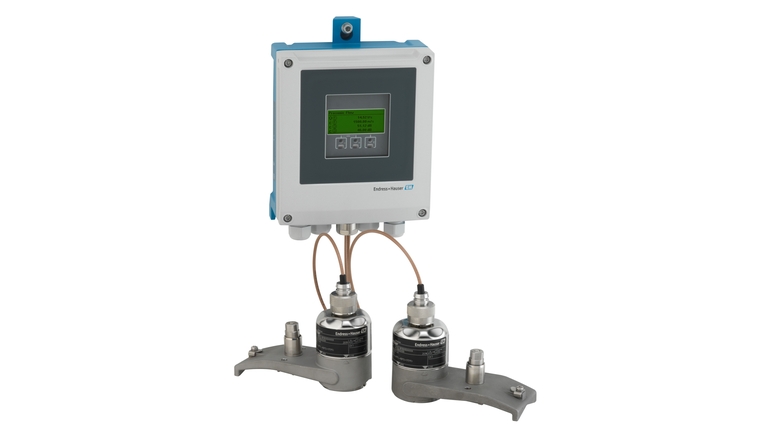 Endress + Hauser have launched the new Prosonic Flow W 400 clamp-on flowmeter. The device combines proven ultrasonic measurement technology with the advantages of Endress+Hauser's Proline device series, thus meeting requirements of plant operators such as cost efficiency, comprehensive process monitoring and maximum freedom when planning measuring points.
The benefits of the Prosonic Flow W 400 include:
Non-intrusive flow measurement without maintenance. Directly mounted on the exterior wall of the pipe without opening the pipe.
Measurement of numerous fluids, e.g. in the fields of water/wastewater, power/energy plants, utilities, etc.
Very large nominal diameter range: DN 15 to 4000 (½ to 160″).
Suitable for pipes made of metal, plastic, GRP or composite materials with or without lining
Time-saving on-site operation and simplified installation thanks to the integrated web server (without additional software/hardware)
Heartbeat Technology for device verification during operation without process interruption
The clamp-on design enables safe measurement of even corrosive, abrasive and toxic fluids – regardless of conductivity or pressure. This makes the Prosonic Flow W 400 ideal for monitoring and controlling numerous processes such as quantity and volume measurement, totalizing and balancing, verification of previously installed flowmeters and detection of leaks in a pipeline.
FlowDC Function for Maximum Performance with Disturbed Flow
Prosonic Flow W 400 can be optionally ordered with the unique FlowDC function that detects and compensates for effects of flow disturbance, e.g. downstream of pipe bends. This makes it possible to maintain consistent accuracy, even with a significant reduction in inlet runs – e.g. from 15 pipe diameters all the way down to 2 pipe diameters. This ensures maximum flexibility for planners and users should they want to equip or retrofit a plant with clamp-on flowmeters.
Fits on Any Pipe
Prosonic Flow W 400 can also be mounted on a wide variety of pipelines. A maintenance-free contact foil (coupling pad) provides optimum sound transmission between sensor and pipe. The resulting constant, high signal strength ensures stable measurement results over many years. Depending on the line size, fluid and pipe material, the sensors are delivered with different ultrasonic frequencies (0.3 – 0.5 – 1– 2 – 5 MHz) so that users can fully rely on maximum signal quality, accuracy and repeatability.