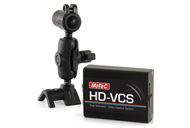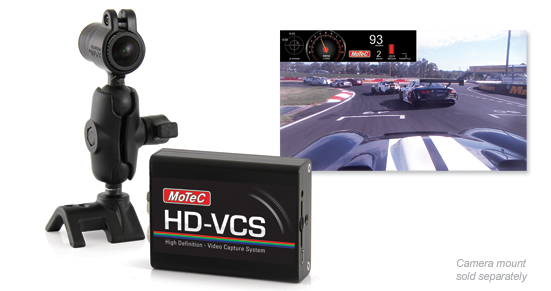 MoTeC's new HD-VCS Video Capture System is more than a compact camera that can be used in motorsport; it has been designed specifically for motorsport, so it offers features not found in other cameras.
See it in action…
The HD-VCS produces genuine high definition footage with 1080p @ 30 frames per second. The clarity is superb and paused frames are like photos so you can relive all the best moments as if you are back in the driver's seat. With this level of detail it's also ideal for incident investigation by adjudicators.
Never miss a race again because someone forgot to hit 'record'. The HD-VCS features an automatic start/stop function that does all the thinking, so drivers can concentrate on the job at hand without worrying about the camera.
Over 5 hours of full high definition footage can be recorded onto the 32 GB removable SD card, and recording is cyclic so you won't miss the finish. The MP4 video files can be played directly from the card.
Instead of relying on troublesome batteries that need constant recharging and reloading, the HD-VCS uses 12 V power direct from the vehicle, so it's ready to go whenever the driver is.
The HD-VCS can automatically record data onto the video with no post processing. On playback, a set of gauges overlays the action, enabling a more complete review of each lap. The data displayed will depend on which sensors are installed but the set includes:
Throttle Position
Ground Speed
RPM
G-Force
Brake Switch or Pressure
Gear
Lap information is currently in development for a future release
The HD-VCS is compatible with any of MoTeC's dash or data loggers – old or new – and can also be used standalone, but no gauges will be recorded.
Automatic synchronisation with MoTeC's i2 data analysis software is currently being developed and will be available later in the year. As new features are released, customers will be able to upgrade their units in the field.
The new HD-VCS is supplied as a kit, including:
HD-VCS Recorder
32 GB SD Card
Bullet Style Camera
Microphone
Power and Comms Looms
A roll cage camera mount is sold separately, and spare lens covers and extension looms are also available.