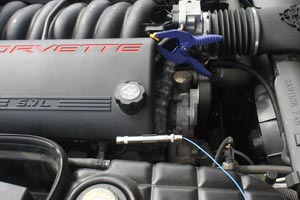 PCB Automotive Sensors Debuts Industry's First IEC-Compliant High Temperature Acoustic Measurement System with TEDS for Vehicle Engine, Manifold, Exhaust Pipe and Other Hot Spots.
The Automotive Sensors division of PCB Piezotronics (PCB®) has announced release of the industry's first IEC-compliant high temperature acoustic measurement system, Model 378B02, a combined prepolarized ICP® microphone and preamplifier, which allows for high temperature automotive acoustic testing to +120 °C, and eliminating the need for high-priced probe microphones. This model also incorporates TEDS technology, allowing for larger channel count testing applications, with greater calibration data storage and retrieval capability and minimized setup time.
Use of traditional ICP® prepolarized microphones for reliable measurements in high temperature areas of a vehicle, including underhood, engine, manifold, exhaust pipe and other hot spots, has traditionally not been possible, due to temperature limitations of standard microphone preamplifiers. While ICP® microphones have standard operating temperatures to +120°C, microphone preamplifiers could not reliably perform at temperatures beyond their own standard operating temperature of +70 °C. With the extended acoustic measurement temperature range offered by Model 378B02, the entire acoustic measurement system can now survive the same temperature range as an ICP® microphone. The added inclusion of Transducer Electronic Data Sheet (TEDS) technology capability allows larger channel count testing and greater calibration data storage and retrieval.
Common automotive applications for this product include underhood measurements for benchmarking and issue identification, including engine radiated, induction, ancillary and turbocharger noise; near-field measurements on manifolds; mufflers; exhaust after treatment components; and tailpipe noise. NVH groups within OEMs and Tier 1 suppliers involved with testing of powertrain components, including engine, engine ancillaries, turbocharger, transmission, intake, and exhaust, will benefit most from this product. or more information, contact PCB Automotive Sensors toll-free (in the US) at 888-684-0014; E-mail: [email protected], or fax 248-478-2094. For detailed drawings, specifications, or additional information on PCBâ products, please call +716-684-0001, or visit www.pcb.com