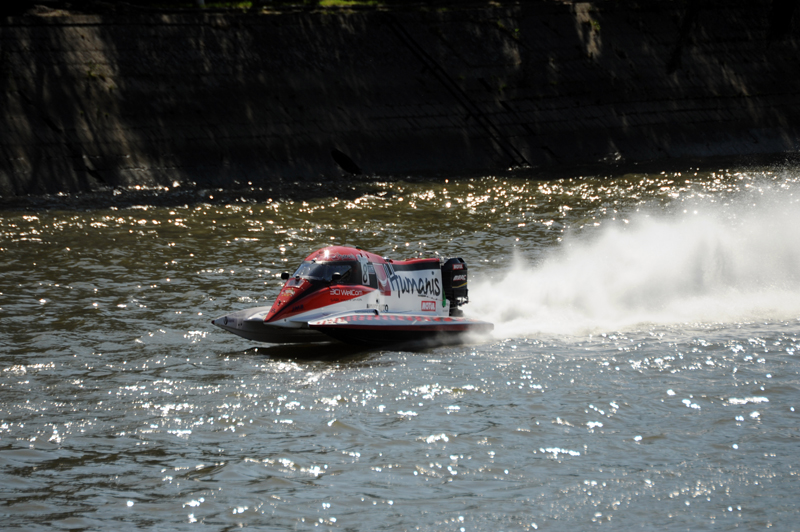 Humanis Pegase, a class 3 powerboat race team has won the 49th edition of the 24 hours of Rouen endurance race using a Gill Sensors Rxl fuel level sensor and display.
With the banks of the River Seine lined by some 400,000 spectators, 35 class 3 Catamaran boats took to the starting line to embark on a 24 hour endurance race, known to be one of the toughest endurance races in the world.
Boat #8, piloted by Christophe Boyard, Xavier Savin and R. Avenel, completed 730 laps to take an undisputed victory, finishing 30 laps ahead of second place contenders Drakkar.  The boat used a Gill Sensors Rxl fuel level sensor and S2 fuel level display to provide precision fuel level data, helping to secure the win at the first stage of the World Championships.
The 370mm fuel level sensor was installed in the deepest part of the fuel tank to ensure accurate monitoring of the full tank depth. The sensor was connected to a dash-mounted Gill S2 level display to allow the pilot to visually monitor fuel level in real-time within the cockpit. Proven in a number of 1000+hp offshore powerboats, the solid-state sensor was well suited to the extreme environment of the application.
The success of the team weighed heavily on the reliability of the sensor to provide real-time data measurements. Data recorded by the sensor allowed Pegase to strategically plan the exact timing of refuelling pit stops, which proved fundamental to the win.
This data gave Pegase a significant advantage over competitors, who could only estimate the amount of fuel remaining. This lack of information ultimately resulted in competitors making extra pit stops during the race, allowing the Pegase boat to extend its lead. Pagase meanwhile, could ensure the fuel tank contained just enough fuel to complete the final stretch without stopping for fuel.
Pegase team member, David Helluin was delighted with performance of the sensor stating "It was thanks to the sensor that we won the 24 hours of Rouen. We were able to decide the perfect moment to make our pit stop, whereas the other competitors were not, this gave us the win."
Humanis Pegase, is now preparing the boat for the World Championships with the hope of becoming the World Champions of Endurance Class 3.