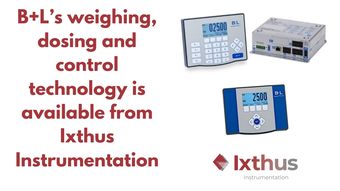 B+L's comprehensive range of weighing controllers, modular systems and extensive support software is now available in the UK (and Ireland) through measurement specialist Ixthus Instrumentation.
B+L's range of products is well-proven across demanding process weighing tasks in filling and bagging, bulk loading, check weighing, process weighing, dispensing, silo and tank weighing and more. The company's products are characterized by high precision and exacting repeatability even under arduous machine conditions where weighing scale vibration or fluctuating load properties are present. With straightforward and flexible link-up to PLCs, PCs and other controllers via a wide choice of process Fieldbus interfaces, the range variously meets legal metrology standards and offers high operational reliability, ensuring maximum machine availability through comprehensive monitoring functions and diagnostic tools.
 Ixthus Instrumentation has many years of experience supplying B+L's high specification weighing systems, having covered several demanding applications for much of the German manufacturer's 50 years in the business.
An example of B+L's product range is the dataPond 3F dosing/filling controller. This product is aimed at fast filing and bagging processes in high performance machines and impresses with an extended scope of functions, local operation or fieldbus, and web-server functionality. Controlling and monitoring the entire process for dosing, filling and bagging of granulates, free-flowing solids or liquids, the controller's 220 parameter sets help to ensure accurate performance at cycle rates of over 2,000 fills per hour.
The industry-approved dataPond 3F fully meets the requirements of legal metrology for legal- and non-legal-for-trade categories R 61, R 51, R 107, and R 76. With up to four connected load cells, the weighing controller can accommodate almost any control environment through its complement of 16 digital I/Os, Ethernet interface and Modbus protocol with optional Profibus, Profinet or EtherNet/IP fieldbus interfaces and further protocols on request.
Other weighing controllers from B+L include the miniPond 3F dosing/filling controller for medium to high speeds. Offering many of the features of the dataPond 3F this unit maintains offers a competitive solution for integration into Industry 4.0 related production machines where its extensive fieldbus capability is easily adapted, for example for condition monitoring applications at the local level or in the cloud. The miniPond 3P is aimed at process automation and takes over all control tasks associated with legal metrology. Its integrated time-optimized dosing process manages all time-critical process tasks – relieving the higher-level control system to enable more extensive and faster machine operation. The miniPond 3P is also well suited to loading and unloading tasks. For checkweighing tasks, the miniPond 3C controller manages weighing and classification at high speeds and high accuracy. Other weighing controllers are available for specific applications in dispensing and continuous feeding as well as silo and tank weighing.
Ixthus Instrumentation, through its close association with B+L also offers sales and full support of modular systems for large scale production where several individual weighing controllers can be coordinated. For example, the CT3 central operator terminal can parameterise and monitor up to 16 miniPond 3F and dataPond 3F filling controllers with different filling requirements and materials.  The touchscreen controller can individually address, configure and remote-control each sprout saving time and cost for complex production lines such as rotopackers and inline packers.