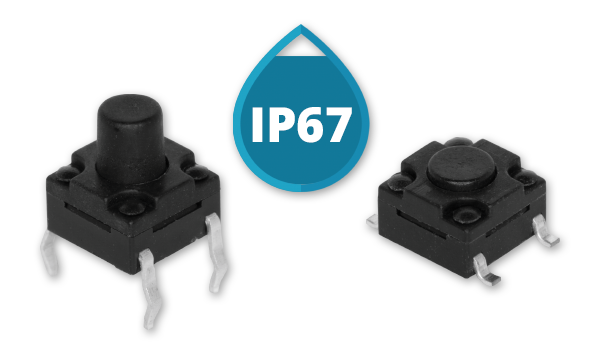 CUI Devices' Switches Group has announced the addition of IP67 rated models to its line of tactile switches.
Ideal for applications subject to moisture and environmental contaminants, the TS03, TS05, TS08, and TS19 series with their industry-best lead times feature compact footprints as small as 3 x 2 x 0.6 mm as well as lifecycle ratings up to 300,000 cycles.
Housed in surface mount or through hole packages with gull wing or long crimped terminations, these IP67 rated tactile switches offer operating forces from 70 up to 260 gf, actuator heights of 0.6, 4.3, 5, 7, 8, or 9.5 mm, and operating temperature ranges from -30 up to 85°C. All models carry SPST circuits, 12 Vdc rated voltages, and 50 mA current ratings.