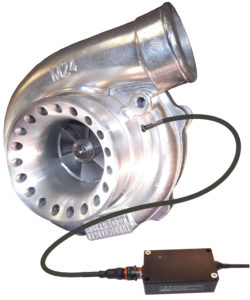 KA Sensors has introduced a new Turbo Speed/Temperature Sensor System, which has been designed for use on performance engines as a control or analysis instrument.
The new KTSM sensor uses well defined and proven Eddy Current Technology to directly detect either aluminium or titanium compressor blades, and the ruggedized system has a very high degree of endurance against EMC, temperature and vibration that can be found in the engine compartment.
The system comprises of a control unit and a replaceable plug and play sensor.
The speed signal output can be measured as a TTL pulse per blade, pulse per revolution or analogue 0-5V, and the maximum speed of measurement is 400,000rpm
Temperature is also measured at the tip of the sensor and presented as a 0-5V analogue signal, and the number of blades can set from 1 to 16 in the small control unit
The sensor function can be determined by a multi-colour LED and also a test signal is available to help optimise the blade to sensor tip gap. Connection to the sensor is via standard Autosport connector and supply/output connections are via a fixed cable.
The sensor is available with a standard M5x0.5 mounting thread which gives fine adjustment during installation.