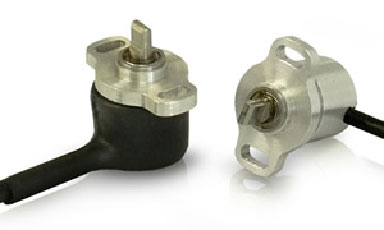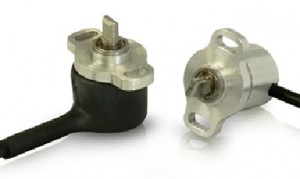 Active Sensors has introduced the latest model in its range of Hall Effect contactless rotary position sensors. The miniature RH0600 is designed around a unique two-part assembly consisting of an electronics module sealed to IP67, and a separate operating shaft set within twin 'long life' stainless steel ball-race bearings. The design offers a virtually unlimited 'electrical life' sensor that doesn't rely on shaft seals for it's useful operating life. The RH0600 is ideally suited to measurement applications where fluid, debris and vibration are a major consideration.
Virtually 'infinite' electrical life
• Sealed against ingress
• Low-force shaft operation
• Competitively priced
• Available from stock
The sensor operates from either a 5Vdc regulated or 6 to 30Vdc unregulated supply and the output signal is 0.5V – 4.5V over a measurement range up to 360°. The operating temperature is 130°C and every RH sensor module is heat cycled prior to final calibration to ensure output signal stability when operated at elevated temperatures. The sensors electrical angle and output signal direction, clockwise or anticlockwise is specified by the customer. Additionally, the compact electronics housing is designed for the easy fitting of a Raychem heat shrink cable boot.
About Active Sensors
Active Sensors is a leading designer of high performance rotary and linear position sensors for motion control and measurement systems. Active Sensors specialise in contactless and contacting technology providing sensor specifications of the highest quality and accuracy. The company is strategically placed in Europe and North America to serve its customers worldwide.