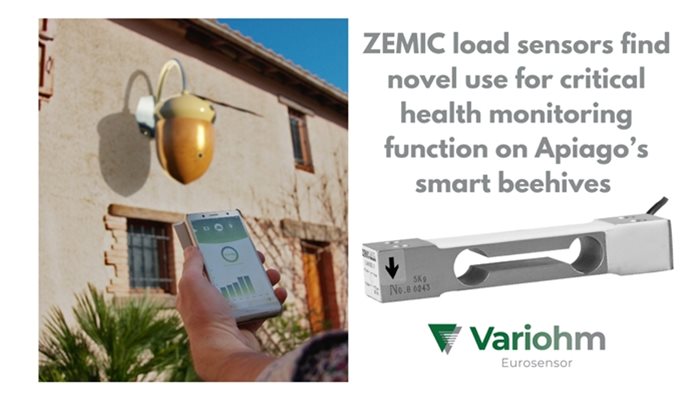 ZEMIC L6D 20 kg load cells have been integrated into Apagio's wall mounted autonomous, solar-powered hive. The L6D 20 kg load cell monitors the bee colony's weight gain or loss as the bees pollinate the local area and the hive develops through the seasons.
Whist load cell-based weighing systems have been extensively used for traditional hives by apiarists over many years, the patented Apiago hive brings beekeeping as a consumer-oriented product which can be installed in practically any garden or allotment setting and used without specialist knowledge.
ZEMIC worked with Apiago through a series of development trials and the 20 kg capacity L6D series load cell was selected as the best fitting and most cost-effective component for the application. The  aluminium-alloy, IP65 rated single point load cell is OIML approved and has as a durable clear anodised finish. With a large selection of weighing ranges from 3 to 50 kg, it is widely used on commercial pricing, counting and bench scales.
As a leading supplier of load cell components and weighing systems ZEMIC Europe has amassed a wide range of successful applications from industrial process controls to precision agriculture and from retail weighing systems to elevator load safety. Within this broad scope of load measurement tasks other unusual application areas also abound, including strain gauges embedded into exoskeletons for spinal cord injury research, electric bike pedal load cells, and miniature force sensors for load feedback on high-end vinyl record turntables.
Apiago is a French start-up company looking to help revolutionise the preservation of bees and promote biodiversity through a new-concept smart beehive which allows beginners with no beekeeping knowledge to install and maintain a beehive in their own garden. They also supports businesses and communities in preserving pollinators by providing the food and shelter necessary for their presence. The Apiago beehive, visible to all, is the symbol of this initiative for biodiversity.
For companies or cities, APIAGO solution is to use the Apiago hive as a symbol of the initiative engaged by the company or city in favour of biodiversity. APIAGO supports them to improve their green spaces to host more pollinators