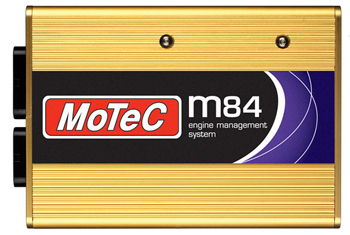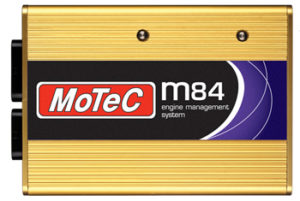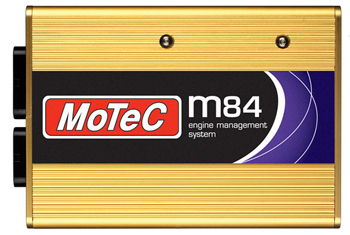 MoTeC has released a smart new entry-level engine management system with a professional pedigree and a price tag that is sure to get people talking.
The highly programmable M84 is the latest descendant of MoTeC's benchmark M800 ECU, featuring much of its big brother's advanced technology, tuning configurability and smart diagnostics, with the added benefit of on-board Wideband Lambda and data logging included as standard, with no need for separate hardware.
The M84's Windows based ECU Manager software has been tailored to suit more modest requirements while still maintaining intelligent tools to assist tuners – for example, the indispensable Ref/Sync Capture, which provides an in-built digital oscilloscope to expedite setup and trouble shooting, plus output testing to check injectors, ignition coils and auxiliary devices without the engine running, and clever sensor and injector diagnostics with fail-safe defaults.
This versatile new 'gold box' is an ideal fit for a wide range of high performance engines up to 8 cylinders, as well as twin, triple and quad rotaries. Its eight auxiliary outputs are user-programmable for functions such as boost control and intercooler spray bars. Like all MoTeC ECUs, the M84 can accommodate most existing sensors, minimising the time and cost of installation.
MoTeC Director, Richard Bendell, is anticipating an influx of interest, particularly amongst high performance tuners and club racers. "We know there are lots of customers around the world that want the accuracy, sophistication and proven reliability of a MoTeC ECU but they simply don't need the full functionality of the M800. The M84 offers a unique combination of race-bred features for a much smaller investment, so it's the perfect choice."
For those wanting to expand on the standard system, several options can be enabled on the M84 at any time via password, without sending the unit back. These include Traction and Launch Control, Hi/Lo Injection (secondary injection), Gear Change Ignition Cut (for flat shifts) and Overrun Boost Enhancement (anti-lag), all of which can be purchased individually or together as an Advanced Functions upgrade. Dual Wideband Lambda is also available as an upgrade.
The M84 features a CAN* communications bus for easy connectivity with other devices such as dash displays and shift light modules, and fast downloading of logged data. This data can then be comprehensively examined using MoTeC's world-renowned i2 data analysis software to improve driver performance and vehicle set up. A professional edge for no extra cost.