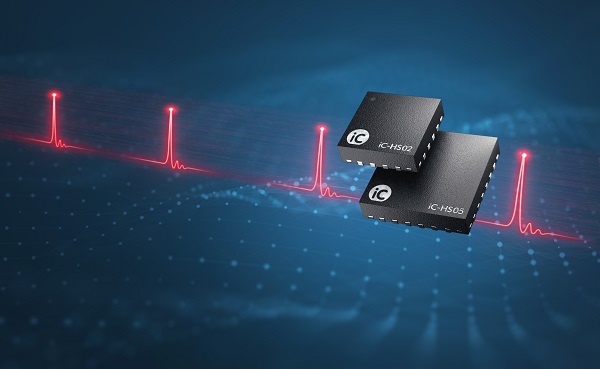 iC-Haus' new iC-HS laser diode drivers support ultra-short pulses from 100 ps to 5 ns, configurable in 1 ps steps, for precise TOF distance measuring, short-range LiDAR sensing, 3D scanners, or laser-induced fluorescence spectroscopy.
Their easy scalability makes them beneficial for a very wide range of applications in the automotive, industrial, medical technology, and security sectors. Functional interfaces and automatic on-chip compensation simplify and accelerate the development of highly integrated laser solutions.
The iC-HS series' pulse width is adjustable from 100 ps to 5 ns in 250 ps steps and a fine tuning with a resolution of 1 ps only. The laser drivers provide output currents of up to either 200 mA (iC-HS02) or 500 mA (iC-HS05). Temperature-stabilized on-chip pulse generation and intelligent on-chip compensation ensure stable and highly reliable control of laser diodes. The pulse current amplitude can be configured easily via a 10-bit D/A converter. For perfect synchronization with the sensor system, the device provides either an LVDS or TTL signal.
The laser drivers are available in two performance classes: the iC-HS05 (up to 200 mA) is integrated into a compact QFN16 chip package (3 x 3 mm), the iC-HS05 is integrated into a QFN24 package (up to 500 mA).