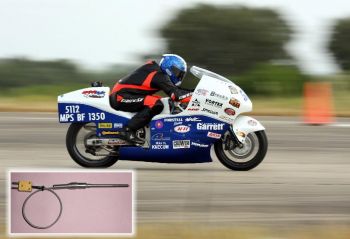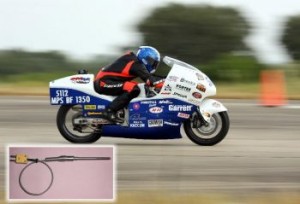 Variohm EuroSensor has added high performance EGT and tuning temperature sensors to its motorsports sensor range in a UK, Ireland and European distribution agreement with the leading USA thermal measurement specialist, Zip Sensors, Inc.
The agreement brings a complete range of premium quality Type K sensors which have a rich pedigree of motorsports success and a strong reputation for high reliability and durability across a broad spectrum of applications for exhaust gas monitoring and other critical thermal measurement areas.
Zip Sensors leading position was recently demonstrated following its close support for the winner of the recent world land speed records for a standing mile which took place at the Texas Mile event held in Goliad,Texas during October 2010. Zip Sensors supplied specialist EGT sensors and cylinder head temperature sensors to the Wild Bros Racing Team and winning rider Bill Warner for its turbocharged, 1299cc Suzuki Hayabusa which reached a world record speed of 278.6 mph (448.36 km/h).
This competition for the 'World's Fastest Streetbike' followed similar successes with consistent track records in standing mile events across the USA during 2010. With just a few attempts allowed and with meticulous detail required for the bike set-up, the events consist of a standing start with a mile of track to reach terminal velocity and just a half mile to come to a controlled standstill. Such land speed record events are known for extreme environments with very high operational temperatures and excessive vibration for long periods of test and track use.
The 650 hp machine included four exhaust gas temperature sensors that were built to the Wild Bros Racing Team's specification with Type K calibration, exposed tip sensing junction, high temperature lead wire and type K miniature connectors. With all stainless steel construction and high-tech ceramic components used for insulation in the area of the lead wire and thermocouple junction, the sensors featured brazed rather than crimped construction to ensure complete reliability in critical stress areas. Two sensors were customised with precisely modified bend radii to fit within the confined area around the turbo charger. The cylinder head sensors, also with type K calibration were hand formed for interfacing the end of the thermocouple to accommodate existing cylinder head bolts.
Such specialist customisation is fairly typical for Zip Sensors, but the high performance sensor manufacturer also has a complete range of off-the-shelf Type K sensors for demanding temperature measurement applications across all areas of motorsports.
Several standard configurations are available that work well with all types of racing form drag racing to motorcycle to Formula 1 as well as diesel applications. Standard versions help to shorten lead times for customers and makes the quotation process quick and straightforward. Aimed at users from the serious enthusiast to professional race teams, the standard sensors include the entry level Sportsmen's Series with exposed tip sensing in stainless steel and Teflon® insulated conductors to the Pro Series featuring grounded enclosed tip sensing in Inconel® stainless steel with optional ceramic fibre insulation with stainless protective braid.
Essentially covering temperatures from -100ºC to + 1300 ºC, the complete range includes EGT variants for diesel, petrol, methanol and nitro exhausts with Type K calibration and complete compatibility with data loggers. Thermal sensors specifically for use on motorcycles and dynamometers are also available.
"Variohm's interest in expanding their line of temperature sensors and Zip Sensors specialisation in high-end, quality motor sports products will be a well matched alliance," says Thomas Krutulis, Zip Sensors CEO, "we are very excited to be entering into the innovative and winning focussed UK motorsports market, and Variohm's expertise and support will enable us the very best platform for success."
The new Zip Sensor range is a part of an extensive range of specialist sensors and transducers that Variohm EuroSensor supplies across the motorsports industry including Formula 1, A1GP, WTCC, GP2, Champ, NASCAR, ALMS, Superbike, and many others. The complete range includes pressure and temperature sensor solutions for fuel, oil, coolant and brakes as well as force, torque and position measurement sensors for suspension travel, throttle and gearbox. Laser and infrared technologies are also supplied for ride height position and tyre condition.