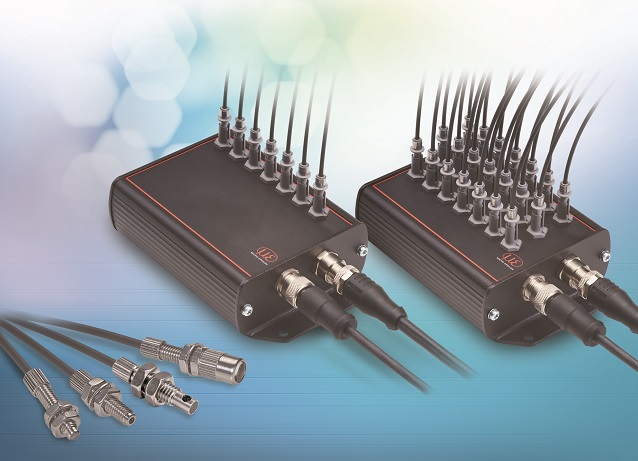 Precision sensor supplier Micro-Epsilon has updated its colorCONTROL MFA series of LED Analyzers with the colorCONTROL MFA-7. The high precision, multi-point color detection system is available in either 7, 14, 21 or 28 channel configurations to monitor up to 28 LED test objects simultaneously.
The colorCONTROL MFA-7 series replaces the discontinued colorCONTROL MFA-5 series. Compared to the MFA-5, the MFA-7 offers 30 times higher data processing/sampling speeds (up to 100Hz), 10 times higher repeatability (xy < ±0.000025) and 10 times wider dynamic range (1 to 50,000 lux). The MFA series is available with 7, 14, 21 or 28 measurement channels, each with a uniform installation size.
The MFA-7 determines color, intensity and function. Color inspection takes place in the XYZ, xyY, Luv, uvL or RGB color spaces. In addition, the colorCONTROL MFA-7 outputs the dominant wavelength (λdom) and the color temperature (CCT).
Information is directly transmitted from the measured object to the MFA controller via individual MFS receiver sensors with fibre optic cables. These are interchangeable and can be universally coupled. The freely available sensorTOOL software from Micro-Epsilon is used for parameter set up of the LED Analyzer, as well as to read out and record the measured values for all measuring points synchronously. The integrated RS422 interface allows easy connectivity with other process control units. USB and RS232 interfaces are also provided.
The continued drive for energy efficiency and sustainability has seen Light Emitting Diodes (LEDs) appear in everything from household lighting and electrical appliances, to computers, toys and all over the latest vehicles. However, the individual color quality of an LED and its color temperature are often determined by its 'bin'. When combining multiple LEDs together, the difference in color temperature can be quite apparent if LEDs are used from different 'bins' and so there is a need to inspect and check that the illumination and color temperatures are equal.
Glenn Wedgbrow, Business Development Manager at Micro-Epsilon UK comments: "Potential applications for the MFA-7 series include any industrial sector where LED manufacturing or testing takes place, including LED testing of electronic assemblies. The system is suitable for the testing of self-luminous objects, LED bin tests, seven-segment display tests and front panel tests. The system can measure the color and intensity of vehicle headlights, as well as the homogeneity of surface area lights and displays. The high sensitivity of the MFA-7 also makes it particularly well suited to precision light transmission testing of pushbuttons, switches and alarm buttons."