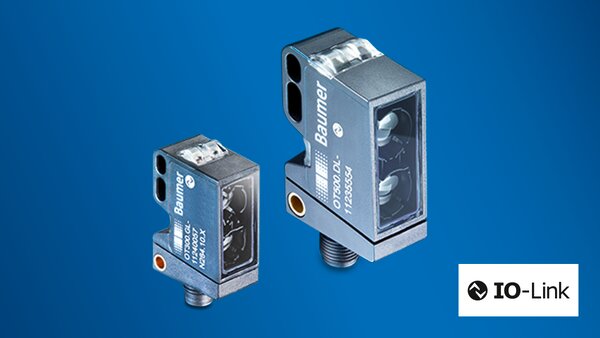 Baumer has added the new OT300 and OT500 sensors to their portfolio of photoelectric sensors. Thanks to time-of-flight measurement, the sensors offer a large detection range of up to 2.6 m.
Independent of the angle of installation, the sensors will reliably detect objects, even with a demanding surface. Due to the compact design, 3D CAD data with integrated beam path and standardized IO-Link interface they easily integrate and enable convenient parameterization. 
The Plus in Reliability
Shiny, reflective, irregular or ultra-black objects, such as car body parts or wafers with anti-reflective coatings pose real challenges to optical sensors in terms of detection reliability. To combat this, the OT300 and OT500 sensors reliably detect difficult objects within a large sensing distance ranging up to 2.6 m for OT500. The same applies to compact OT300 for tight installation space featuring a sensing range up to 1.8 m. 
Easy Integration and Parameterization
When it comes to the commissioning of new machines, Baumer attaches great importance to easy sensor integration and parameterization capabilities. This is supported by 3D CAD data with integrated beam path, as well as the beam being aligned to the mounting holes component tolerance compensation (qTarget), convenient teaching via qTeach and the standardized IO-Link interface with Smart Sensor Profile (DMSS). The latter allows for intuitive parameterization using the Baumer Sensor Suite and improves process transparency thanks to secondary sensor data.