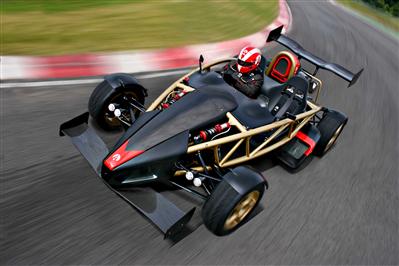 Penny + Giles, a business group of Curtiss-Wright Controls and designer and manufacturer of high precision sensing technology, is helping gearbox specialist Geartronics to significantly improve the shift times and reliability of its motorsport paddleshift system using Penny + Giles SRH280DP Hall effect rotary sensors.
Commenting on the change to Penny + Giles Hall effect sensor technology, Geartronics managing director Neil Wallace explains: "The strategy to successfully get out of one gear and engage the next as quickly as possible is not just a case of cutting the engine or blipping the throttle for a few milliseconds and hoping for the best!"
Gear up-shifts or down-shifts are essentially a two-stage process – first to disengage the current gear, then to engage the next gear. The times for both processes vary depending on complex dynamic factors acting on the vehicle at the time, which are impossible to model or predict.
The Geartronics 'closed-loop' control system uses a gearbox control unit (GCU) in conjunction with Penny + Giles SRH280DP sensor inputs to modify its own operation – in real-time. In the context of semi-automatic gear selection, the closed-loop system monitors the gear position sensor to determine the precise angular position of the gearbox selector barrel. This information is fed back to the GCU control algorithm so the pneumatic actuator, engine torque reduction or throttle blip can be turned on and off as necessary to effect the fastest and most reliable gear shifts.
Neil emphasises that a closed-loop system is absolutely reliant on receiving accurate feedback from the sensor, so the Penny + Giles SRH280DP Hall effect sensor is effectively the cornerstone of the system.
By contrast, an 'open-loop' system has no feedback mechanism, and simply relies on fixed timers to govern the various shift events. An open-loop system therefore applies the same engine cut or throttle blip duration for every shift, regardless of whether those times are appropriate for each individual shift requirement.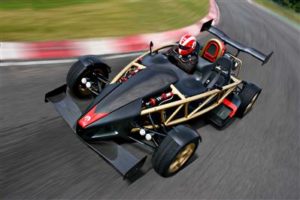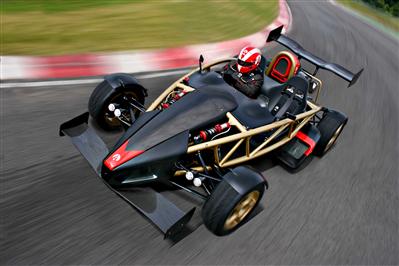 Geartronics' sequential gearbox shift systems are used in extreme autosport environments such as formula and GT car racing and rallying, and, more recently, have been specified on the Ariel Atom V8 road car. Combining sophisticated electronic control and extremely accurate Penny + Giles rotary sensors, the pneumatic shifter mechanism directly controls the gearbox cam-drum or barrel, and eliminates the requirement for driver operated shift linkages.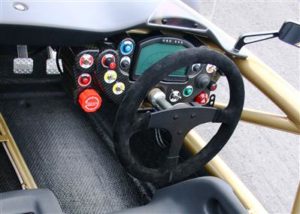 A committed user of Penny + Giles SRS280 resistive rotary position sensors for more than nine years, Geartronics began specifying a competitor's sensors following the introduction of Hall effect technology, but as Neil Wallace explains, they very quickly proved unreliable, were causing numerous problems, and in some applications, were failing within a couple of hours due to the high levels of vibration generated by V8 race engines.
"Fortunately, at around the same time we learned that Penny + Giles had introduced its own hall-effect sensor, the SRH280DP, so we began testing them on our shifter systems and saw an immediate improvement. In fact, when they were installed mid-season on two single-seat V8 racing cars, they proved 100% reliable for the remainder of the season."
He says that the non-contact technology used in Penny + Giles Hall effect sensors is more reliable as it's not affected by vibration – an important benefit compared to the wear experienced with resistive contacts, and adds that direct comparison is difficult as Geartronics hasn't had a Penny + Giles SRH280DP fail.
Penny + Giles provides Geartronics with a mix of standard and bespoke SRH280 sensors including the special, double-output SRH DP versions that can be used to send separate signals to both the GCU and the engine management system (ECU) or data acquisition systems.
Summing up Neil Wallace says that for any semi-automatic shift system to work consistently and reliably under all conditions, the GCU needs, 'as an absolute minimum', to measure the gearbox barrel position, throttle position and engine speed, and that's exactly what the Penny + Giles SRH280DP Hall effect sensors help us to do.
Geartronics provides its sequential gearbox shift systems to winners in a wide range of motorsport disciplines such as British and European Hillclimb Championships, open-wheel 'formula' racing, GT & sportscar endurance racing and rallying.
For enthusiasts requiring more information, a YouTube video (Search: Steiner Marcel La Roche 2011) shows an under bonnet view of a system operating real time in a Steiner Motosport Osella FA30.
Penny + Giles' popular SRH280 contactless rotary position sensors use a factory programmable non-contact Hall effect sensor system. The SRH280P & SRH280DP provide reliable and accurate rotary position measurement in extreme motorsport and industrial environments where shock and vibration can occur. These sensors use the popular 38mm flanged housing with an environmental protection rating to IP68.
SRH280P & SRH280DP operate from either 5Vdc regulated or 9-30Vdc unregulated power supply and are available with analog (0.5 – 4.5Vdc and 0.1 – 4.9Vdc) or digital (PWM) output signals.
The sensor is factory programmable, allowing you to specify the output signal type, the measurement range (0-20° to 0-360° in 1° increments) and the output direction (clockwise or anticlockwise). It has a 12 bit resolution (0.025%) over the selected measuring range, and operates from -40 to +140°C when powered at 5Vdc.
Key Features include contactless Hall effect technology; single or dual output channels; 5Vdc or 9-30Vdc supply; total sensor measurement range from 0-20° to 0-360°; analog or digital (PWM) output; 12 bit resolution over selected measuring range; low noise level (1mVrms) on output signal; operating temperature -40° to +140°C; environmental protection to IP68; crush-proof mounting flange with steel inserts, and rapid availability.