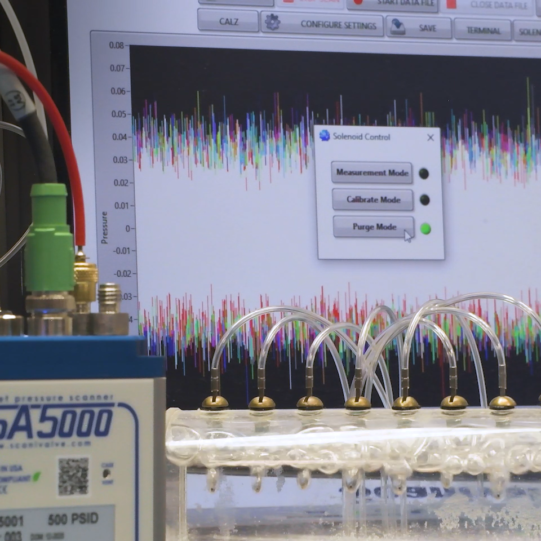 After two years in development, Scanivalve have announced the DSA500; a new digital pressure scanner that contains a number of innovative new features.
The DSA5000 utilizes an individual 24-bit A/D converter and RTD for each sensor allowing fully and truly synchronous data collection. Data can be delivered at rates of up to 5,000Hz per channel in a wide of engineering units.
Through revolutionary 'ring-architecture' capability, multiple DSA5000s can be connected together through miniature Ethernet connectors. This delivers the industry's only integrated, multi-drop architecture, industrial network configuration for pressure scanning instrumentation, as well as creating an isolated, mini-network where the "master" unit serves as a single point of communications for all scanners in the mini-network. Scanners are automatically identified, easily configured, and accurately synchronized. Data from merged scanners provides a single output data file with pressure and temperature values from all of the connected Scanivalve 5000 series scanners.
Whilst smart, fast and highly accurate, the DSA5000 is designed to withstand extreme environments too. Its IP67 rated aluminium case is rugged but lightweight, with an option to install a self-controlled internal heater which allows operation in ambient temperatures down to -50°C. The DSA5000 can also be fitted with an optional shock-mount kit, which has been tested to MIL-STG 810G Cat. 24, 514.6.
Operating a wide range of pressure ranges from 4"H2O (0.18psi) to 1,000psi (at launch) in several pneumatic configurations means a DSA5000 can be configured for low pressure aerodynamic tests, high pressure compressor tests, and everything in-between.
Paul Crowhurst, Managing Director at Evolution Measurement said, "This is a truly exciting product. Never before have we seen this level of capability in a pressure instrument. This is going to revolutionize aerodynamic development as our world embarks on more advanced airframe and gas turbine engine development."