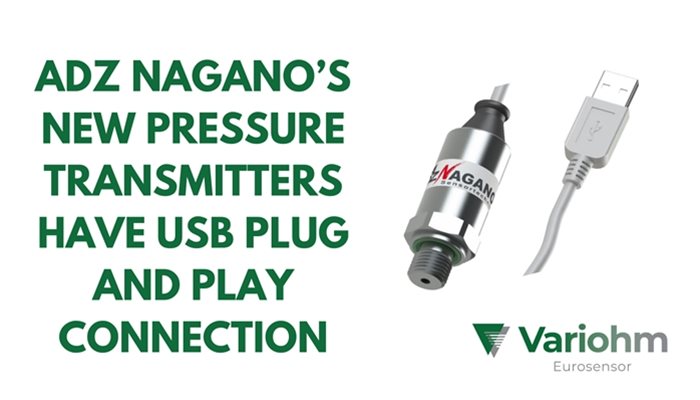 ADZ Nagano has announced that its new line of pressure transmitters feature USB powered plug-and-play interfaces. The line will be available in the UK through Variohm Eurosensor.
The transmitter's broad specification, with parameters adjusted according to customer needs, is aimed at general industrial and process technology applications. Generic drivers allow measurement data to be recorded and processed on computers using simple commands or as part of front-end development software.
Based on ADZ Nagano's comprehensive SML series industrial pressure sensors, the USB is available with fully sealed, IP65 protection class housings in stainless steel or titanium. A wide choice of process connections are available and material in contact with media includes stainless steel, titanium, silicon, NBR, or PA66 according to application needs. A single connection cable with a USB-A connector is supplied.
General specifications include a medium temperature range of  -40 °C … +125 °C and a compensated area temperature between -20 °C … +85 °C, with a typical total error at room temperature of ±0.50 % F.S. Typical measurement time response in the 10 to 90 % range is 2 msec. These robust and durable pressure sensors feature DIN EN 60068 shock resistance of 1000 g, vibration resistance of 20g and a shock load capability of 50g.  Full specifications for the USB range can be discussed with the Variohm EuroSensor application engineering team.
Variohm EuroSensor supplies and comprehensively supports ADZ Nagano's full range of industrial pressure, temperature, and level sensors. Variohm's distribution partnerships with leading sensor suppliers and in-house manufacturing expertise combine to provide customers with component level and system-based measurement solutions for position, force, pressure, load, and temperature across industry, construction, agriculture, motorsports, research and more.