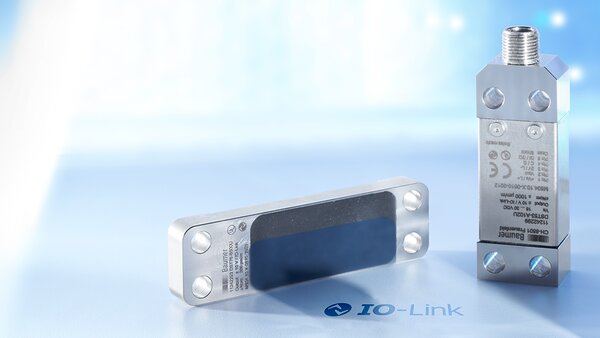 Baumer has introduced the new DST53 and DST76 strain sensors for industrial indoor applications, using intelligent force measurement with IO-Link as a new standard. Thanks to flexible parameterization and smart functions, these offer a simple path to the optimally suitable solution for the respective application and maximum machine effectiveness.
New Electronics and IO-Link as Standard
With the DSRT strain sensor, Baumer has been offering an effective and popular option for industrial indoor applications for many years. It is now succeeded by the DST76 standard strain sensor and the DST53 performance model with smoother mechanics, which feature new electronics and an IO-Link interface as standard in addition to an analog output. This simplifies parameterization, enables simulations and tests, and thus accelerates engineering tasks. In addition, this allows users to operate their machines and systems more efficiently through coordinated signals and signal conditioning as well as smart additional functions such as diagnostic data, selectable process values, peak detection or filter functions. Users can also benefit from these advantages when using the conventional analog output.
More Options for Industrial Indoor Applications
The DST76 is the new standard sensor for industrial indoor applications from the Baumer portfolio. It offers a specifically customizable measurement range up to ± 500 µm/m, is screw-compatible with most strain sensors with a hole spacing of 76 mm, and provides users with a cost-effective option for a wide range of force measurement applications. The DST53 performance model extends the specifically adjustable measurement range up to ± 2000 µm/m and its low rigidity results in minimal influence on the machine structure. Both versions are silicone-free, making them suitable without restriction for a wide range of applications in factory automation and mechanical and plant engineering, for example in presses, sheet metal bending and processing machines, thermoforming machines or in sheet metal joining.
Strain Sensors for all Purposes
With the two new options for industrial indoor applications, Baumer is expanding its already comprehensive range of strain sensors. The range consists of the DST20 miniature passive strain sensor, the smallest screw-on strain sensor available, as well as the DST55R, a particularly robust strain sensor for harsh outdoor applications with increased operational reliability due to long-term sealing with the IP69K protection class. With the DST76 and DST53, users can now more accurately select the right solution for their industrial indoor application.