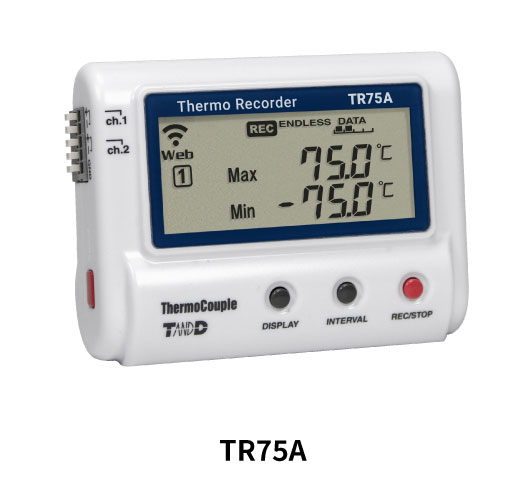 T&D has announced the release of the Thermo Recorder TR75A, a new line of their TR7A Series data loggers.
The TR75A supports 6 types of thermocouple (K, J, T, E, S, R), and has the same auto-upload to cloud function as the existing TR-75wb, plus a new array of features and functions. These new features are particularly useful for temperature control of ultra-low temperature environments, such as those found in vaccine storage.
Features of the TR75A include:
Wide range temperature measurement (-199 to 1760°C); perfect for vaccine storage management requiring ultra-cold chain.
"Vaccine Mode" setting that is compatible with VFC guidelines from the CDC
LCD display that allows simultaneous display of 2 channels
Alarm notification via LCD display and Email
MAX and MIN values displayed in the LCD make it easy to understand the highest and lowest temperature for each day.
Automatic upload of recorded data to our free cloud based "T&D WebStorage Service"
Free server software available when cloud service cannot be used
Network communication with server via HTTPS
Setup and data download via USB (with PC) or Bluetooth (with mobile device)
Logging capacity of up to 30,000 readings per channel (TR-75wb is 8,000). That allows for recording and storing up to 3.5 years of data at a maximum recording interval of 1 hour.
No loss of recorded data even if battery power is completely gone. Once the battery is replaced, data can be downloaded as usual.
The TR75A releases in early December 2021 and will replace the TR-75wb, which will be discontinued.