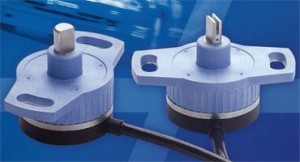 Penny + Giles has announced that its SRS280 rotary sensor for the motorsport industry has achieved an IP68 sealed rating. The rugged sensor, which is used for reliable position monitoring of fuel control systems, suspension, steering angle, throttle and gear position, is now totally protected against the ingress of water, dust and dirt. As a result it delivers accurate measurements in the most extreme track conditions.
The SRS280 rotary sensor uses Penny + Giles' proven hybrid potentiometer technology, to deliver high performance in a variety of racing vehicles, including single seat cars, sports cars, touring cars and motorbikes. It provides high stability under extremes of temperature and humidity, with virtually infinite resolution and a life in excess of 50 million operations.
The SRS280 offers a range of innovative features which overcome the shortcomings of competitive products and has set the standard of reliability for the industry. SRS280 was the first rotary sensor of its kind to offer a range of thirty-five different models with angles from 10 to 350 degrees allowing the user to match the sensitivity of the system to the application, for better data acquisition and closer control.
The sensors have an integral moulded cable assembly, which negates the need for a heat-shrink boot. Crush proof mounting flanges feature steel inserts which protect the casing from the possibility of damage from mounting bolts. As a result, SRS280 can be repositioned as many times as necessary, making it a much better investment than traditional designs which often have to be discarded after only one use.
The SRS280 is also available with an IP50 rating for applications where such a high level of protection is not required. The new sealing option adds to the company's extensive range of rotary sensors which includes the SRH280 that is based on non-contacting Hall effect technology. Also sealed to IP68, it features a 12-bit processor and offers 0.088 degree measurement resolution for high precision monitoring.
All products are manufactured at Penny + Giles' ISO9001 certified facility and are available in three to five days from ordering.