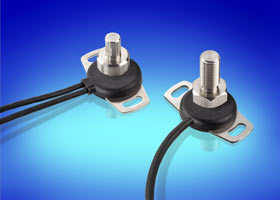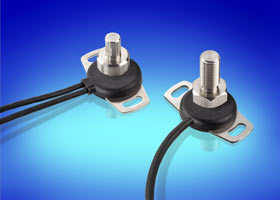 Penny + Giles, a business group of Curtiss-Wright Controls and a designer and manufacturer of high precision sensing technology, has introduced the NRH280DP, a new dual output 'no contact' rotary position sensor.  The NRH280DP uses proven, non-contact programmable Hall-effect technology to provide OEMs with highly reliable and accurate rotary measurement in extreme industrial and off-highway environments. This low-profile sensor, with a 6.5mm profile, one of the thinnest available, provides numerous programmable options.
Designed for operation in extreme temperatures, the NRH280DP enables system designers to quickly and easily improve the safety and integrity of their control systems. The rugged NRH280DP is ideal for use in arduous operating environments and is currently used in diverse applications including articulated dump trucks (tip control), garbage collection vehicles (bin lift control), road sweeping vehicles (4-wheel steering), and Formula 1 racing cars (throttle pedal position).
Penny + Giles' configurable NRH280DP provides OEMs with a wide selection of parameter options including measurement range, and clockwise or anticlockwise direction output. This flexibility provides OEMs with a greater amount of control to configure the sensor to best suit their needs and achieve maximum performance. For example, the sensor can be configured so that one signal can be used in a control function while the other is used for position monitoring or display purposes.
NRH280DP Performance Features:
Dual outputs
"No Contact" Hall-effect technology
Supports air gap between 2-7mm
Low-profile: 6.5mm profile
Power requirements: 5Vdc regulated or 9-30Vdc unregulated power supply
Over-voltage protection to 40Vdc
User programmable with 341 different angles (0-20 to 0-360 degrees: in one degree increments)
12-bit resolution (0.025%) over selected angular range
Analog (0.5 to 4.5Vdc) or digital (Pulse Width Modulated) signal outputs
Factory programmable to 0.1 to 4.9Vdc output range
Electromagnetic immunity to 100V/m (<1mV maximum output signal)
±0.4% non-linearity
Operating temperature range: -40 to +140ºC @ 5Vdc (< ±30ppm/ºC stability)
Unlike conventional captive shaft rotary position sensors, the NRH280DP has a separate magnet assembly that activates the fully encapsulated Hall-effect sensor with a permissible air gap of between 2 and 7mm.  This allows the sensor to be used in extreme environments that are subjected to high shock and vibration, or can endure high-pressure wash-downs (IP69K protected).
The sensor's slim, low-profile housing, measuring only 6.5mm, is one of the thinnest available in the industry. Its transmissive properties between the magnet and sensor enable operation through non-magnetic materials, such as gearbox castings. The NRH280DP can operate from either a 5Vdc regulated or 9-30Vdc unregulated power supply and has over-voltage protection to 40Vdc.  Each of its dual output channels can be supplied programmed with any one of 341 different angles in the range 0-20 to 0-360 degrees, in one degree increments, and features a 12-bit resolution (0.025%) over the selected angular range.
To ease configuration, NRH280DP is available with analog (0.5 to 4.5Vdc) or digital (Pulse Width Modulated) signal outputs as standard, but can also be factory programmed to offer 0.1 to 4.9Vdc output range, matching the equivalent signals from a potentiometer.  Its two outputs can be used for error checking if they are set up to be opposed (clockwise on the first signal and anticlockwise on the second signal) and the output summed.
NRH280DP features electromagnetic immunity to 100V/m and it has a very low maximum output signal noise of less than 1mV.  This means that no additional signal filtering is required on the output signal. It also has a class-leading non-linearity of ±0.4%.  When powered with 5Vdc, the NRH280DP has an operating temperature range from -40 to +140°C, with a stability of less than ±30ppm/°C, and can also withstand temperatures up to +170°C for 72 hours.