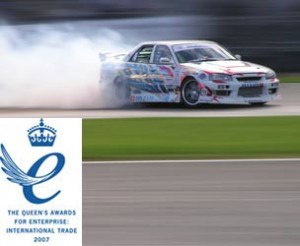 Buckingham based Racelogic Ltd, the world-renowned designer and manufacturer of GPS-based vehicle performance analysers and data loggers, are pleased to announce that the company has just been awarded the prestigious Queens Award for Enterprise in the International Trade category.
The award, the highest honour which can be bestowed on a UK business and often considered as the equivalent of a "corporate knighthood" was given to recognise the outstanding progress made by the company with regards to International Trade, which has increased by 229% over the last 3 years and now accounts for approximately 82% of the company's overall turnover.
Racelogic's Managing Director, Julian Thomas cited the award as "thrilling" and added, "We have worked incredibly hard over the past few years in setting up a worldwide distributor base, in addition to our UK and German offices, to offer the best service we can to both UK and International customers.
Mr. Thomas also added, "The award comes at an exciting time in the company's history – we have just had our best sales quarter thus far and are on the brink of releasing a new application for our VBOX range of products, the Video VBOX.
The award will help to raise our profile further and cement our position as the worlds leading supplier of GPS-based vehicle performance analysers and data loggers. The award is testament to the hard work and dedication from the exceptional group of people who have worked hard to develop, produce and support the Racelogic range of products, both in the UK and around the world." Racelogic was formed in 1992 and currently employs 24 staff at its head office in the UK, with a further 2 staff at Racelogic offices in Germany.