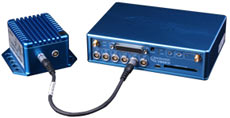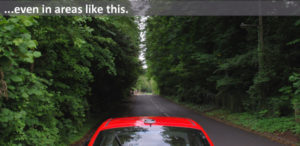 GPS is recognised as being the most accurate method of measuring velocity…as long as view to the sky is clear. Under bridges, near trees, or through built up areas, the quality of satellite signals degrades, causing drop outs and 'noisy' measurements.
However, Racelogic can now maintain high accuracy in GPS data even where sky visibility is less than perfect…
IMU Integration with VBOX 3i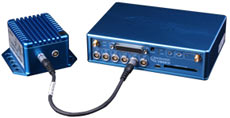 Blending GPS from VBOX 3i in real-time with data from all 6 sensors in an Inertial Measurement Unit (IMU), the system produces smoother, more accurate data than could be achieved by GPS alone.
Designed to reduce velocity noise in adverse conditions, the solution can improve accuracy on tree lined roads, under bridges, and near tall buildings.
So how does IMU Integration actually improve the already accurate GPS data?
To show this, a real velocity test was carried out on the road pictured above. As you can see from the graph, generated in VBOX Tools, the GPS data (shown in red) is 'noisy', and drops out for small periods. This is caused by the trees obscuring and reflecting the signal.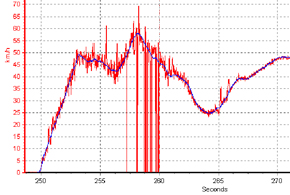 However, IMU Integration (the blue line) decreases the measurement noise and maintains a more precise velocity, even through the GPS drop outs.
IMU integration realises the high accuracies that VBOX 3i can achieve even when external conditions are compromised, meaning that data has now become more reliable and easier to interpret.