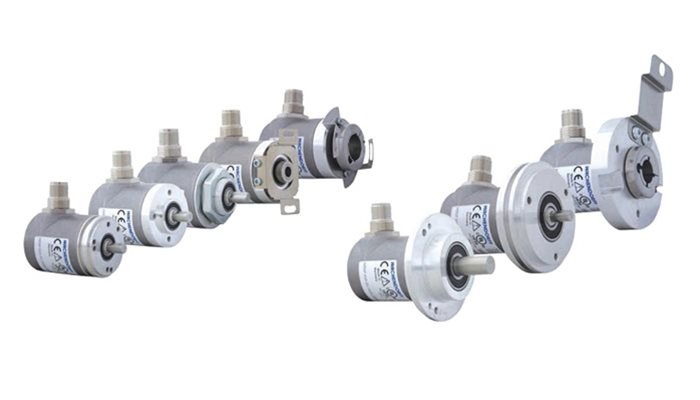 Encoder and measurement systems manufacturer, Wachendorff Automation, has launched a new variant of its well-proven industrial grade rotary encoders that feature a freely definable pulse count. The new WDGP series is available in the UK from Variohm EuroSensor and offers any number of output pulses from 1 to 16,384 PPR as TTL or HTL quadrature A and B channels, plus a freely configurable zero pulse (N). 
The new WDGP encoder is based on the same robust and durable mechanical design used across Wachendorff's wide range of rotary encoders. Generous axial and radial shaft loading and a wide operating temperature range of -40 °C to +85 °C combine for durability, high reliability, and long life for the most extreme rotary position feedback tasks in heavy engineering, off road vehicles, agricultural machinery and more. 
Utilizing IP67 protection class stainless-steel housings in a choice of 36 mm and 58 mm diameters with industry-standard mounting options, these high accuracy incremental encoders are based on a patented magnetic sensor technology that offers durability and extremely high resistance to shock, vibration and undesirable shaft loading.
With its freely definable pulse count, the WDGP series encoder offers users a convenient alternative against standard output options that may lead to more complex control electronics or software calculation. Application flexibility is also aided with an input power requirement from 4.75 to 32V DC, which is reverse polarity and short circuit protected. The maximum pulse frequency is 600 kHz for the HTL version whilst the TTL option offers 1 MHz. The HTL variant also offers inverted output signals. 
The 36 mm diameter model is available with a choice of servo flange, round flange, and screw flange mountings, with a special servo flange version including IP67 + IP69K protection rating for use in high pressure washdown/steam cleaning applications. A version with an elevated radial and axial shaft loading to 300 N is also offered. The 58 mm diameter model is currently available with servo flange or clamping flange options. Both sizes offer a choice of shaft diameters; a custom design service can be made available for OEM applications.