The use of foil and other multisensory packaging effects has become more and more common in a crowded marketplace competing for customer attention.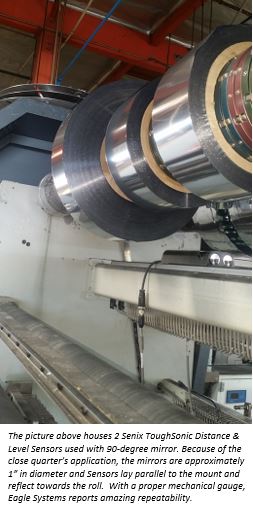 Print shops are always in need of a competitive edge; something that allows what they provide to jump out amongst other print providers. Metallic foils are often a simple, yet effective, way to enhance a product's aesthetic and set it apart from the competition. Evolving out of the hot stamping process, the use of cold foil has become more common in the last few years. The fancy, shiny materials, and graphics you see on cosmetic boxes, toothpaste boxes, beauty products, wines and spirits, and many more products is likely done with cold foil printing.
Cold foil printing, also known as cold foil stamping, is a modern method of printing metallic foil on a substrate to enhance the aesthetic of the final product. More specifically, lithographic cold foiling is an inline printing process performed on a sheet fed offset press that allows a metallic foil to be positioned anywhere on a printed sheet with litho precision. To put that in more layman's terms, coil foiling means that foil is put onto paper in almost any place and in almost any weight.
The cold foiling and printing can be done in a single process which leads to significant savings when it comes to time and money. Time, because it is one pass on a press, and money, because of no tooling costs (dies) that are needed. A job that normally would take two separate machines – one for the printing and one to apply the foil, and take an additional eight hours of press time, can be accomplished in about 20 minutes with cold foil.
When engineering and designing the ECO-Eagle cold foil system, Eagle Systems originally used a simple Ultrasonic Distance sensor. Unfortunately, this sensor started giving them trouble and would often fail. Eagle Systems needed a better solution and reached out to Senix and selected a ToughSonic 3.
After short term trials, they realized the precise abilities of this sensor and the durability was impressive. "To date, we have yet to have any failure of the Senix sensors and have purchased at least 100, if not more. Having built in scaling and filtering makes the system so much easier" said Mike King, CEO and Founder. The system also allows remote programming in the event of different algorithm needed on our machine; this is quite helpful as we are constantly upgrading the Eagle with newer features. The Senix ToughSonic sensors also allows remote programming with parameters easily changed.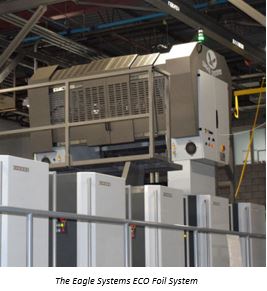 Eagle Systems is an international leader in foiling equipment for the packaging and printing industry. The company was started in 1990 by Mike King (President and CEO). In 2007 the development of a machine was started which today leads the industry in cold foil application. The ECO-Eagle cold foil system is fully automatic; it is very simple to use and does not even require and operator console. From installation of the cold foil unit, which takes about 2-3 days (with production on the 4th day!) and only 2 hours of required operator training you can be assured you will see a significant return on investment in a short period of time.
The cold foil system can run unattended and undisturbed, even between jobs. The systems can foil, at speed, ultra-fine detail to 175-line screen, as well as produce a wide variety of coverage from light to heavy. This type of dynamic machine requires a sensor that is tough, durable, and configurable to measure the diameter of the cold foil and monitor when a new role is needed.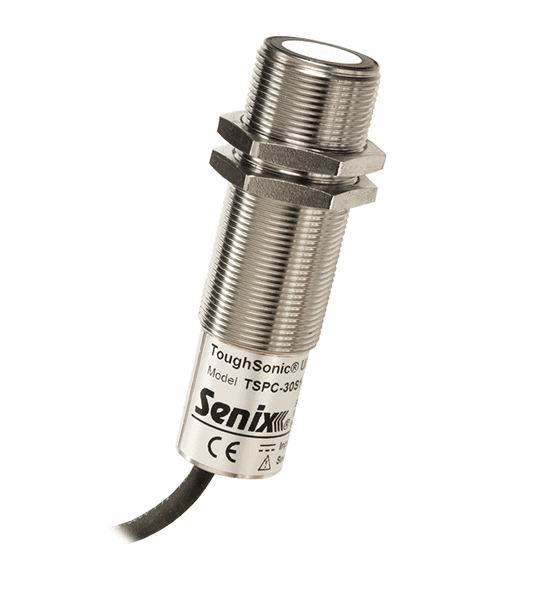 Senix ToughSonic ultrasonic level and distance sensors have built in switches that can be set up as souring or sinking switches. A user adjusts the switch outputs to trigger when a roll goes over/under threshold. The switch point can be easily set with SenixVIEW or the teach button
Mike King stated, "Customers find that our ECFC not only optimizes their usage, but also opens the door to knowing how to sell foil, compete on new jobs and win for more profits."