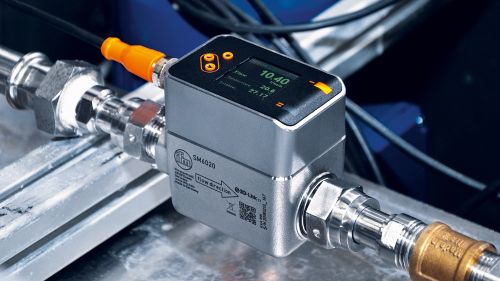 After the product received the German Design Award in February 2021, ifm has now also received the Red Dot Award and the iF Design Award for its SM6020 flow sensor.
Outstanding design that combines aesthetics and function has been confirmed three times for the SM6020 flow sensor. For all three awards, international experts review, discuss and evaluate submissions from companies worldwide. The quality seals are only awarded to products that have an outstanding design for a design-oriented economy.
The evaluation process of the iF Design Award, the Red Dot Award and the German Design Award is based on various criteria which are constantly adapted to new technical, social, economic and ecological requirements. They include the degree of innovation, functionality and ecological compatibility as well as formal quality.
On a technical level, the SM6020 flow sensor has a high level of accuracy that guarantees constant process reliability and has low start-up and hardware costs thanks to IO-Link.
The new measuring tube design minimises pressure losses, while the optimised design allows parallel installation in standard splitters and the elimination of inlet and outlet pipe lengths.
These and other technical added values are also reflected in the formal design. The slim design combined with the connector position optimised for practical use, for example, ensures that the flow meter can be optimally positioned.
"The robust die-cast housing protects the precise measuring technology in a wide range of applications such as injection moulding machines, machine tools and hardening plants," explains Martin Schmidt, Industrial Design and Innovation Strategy at ifm.
The strong colour contrast of the multicolour TFT display additionally directs the user's attention to the process data and the interactive elements (buttons and LEDs).
The combination of robust high-quality materials and varying colours underlines both the reliability and the functionality of the product as well as its modern, simple aesthetics.
"This was the first project I worked on as a designer after joining ifm, and I'm extremely proud that our great team performance has been awarded the world's three most important design awards," added Schmidt.