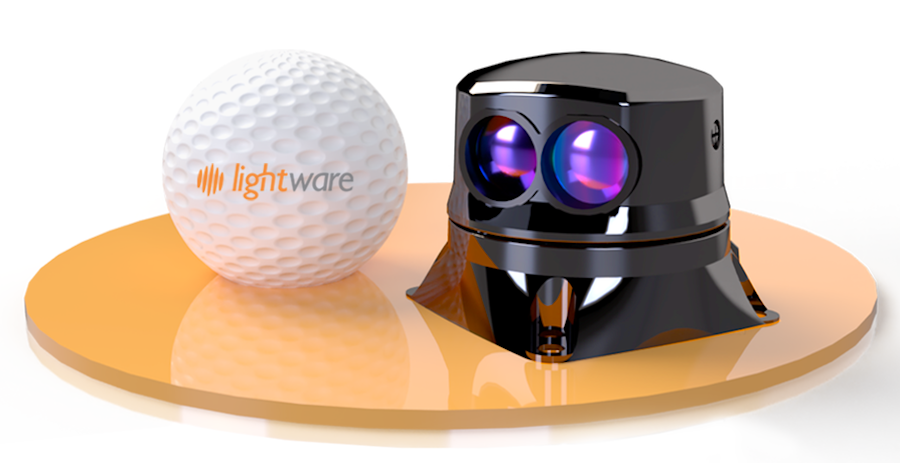 LightWare LiDAR has introduced the new SF45 microLiDAR, a small and lightweight scanning LiDAR sensor that weighs just 59 grams and measures only 51 mm x 48 mm x 44 mm – roughly the size of a golf ball.
The SF45 is capable of fast, accurate distance and speed measurements with ranging capabilities of 0.2 m up to 50 m which can be adjusted from 20° up to 320°.
Capable of horizontal or vertical Field of View (FoV), the LiDAR works well in direct sunlight, low light conditions, and complete darkness, making it ideal for rapid and high-accuracy obstacle detection. It also features an update rate of up to 5000 readings per second.
The sensor provides any type of unmanned aerial vehicle (UAV) or other unmanned systems with vision that enables them to operate with a lower risk of accidents. The SF45 is an excellent LiDAR for applications such as collision avoidance, navigation, detect and avoid, height above ground altitude, obstacle detection, and terrain following.
Thanks to its low SWaP (size, weight, and power) requirements, use of this microLiDAR on a UAV will not impact flight time. All data on the SF45 is processed on-board, therefore no dedicated processors are required.
"The SF45 democratizes machine perception and brings vision, security and practicality to even the smallest unmanned systems," explains Philip Constantine, CEO of LightWare LiDAR LLC.
"Autonomous machines do not have 3D depth perception, so they cannot understand unexpected features. Our sensors give them eyes that can even see around the corner."