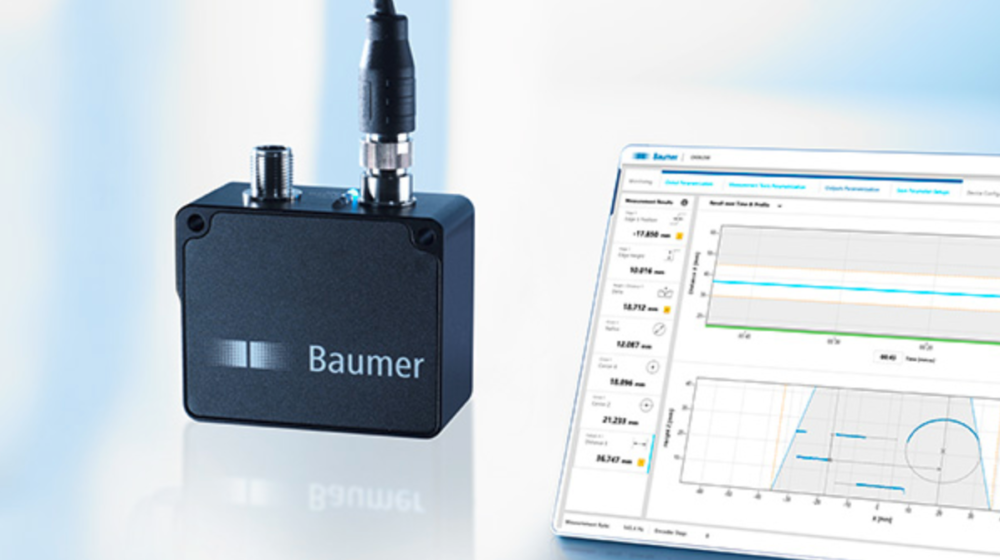 Inline quality controls play an increasingly important role in the production process. They reduce downtimes and reject rates, thus ensuring lower costs and high customer loyalty. Up to now, such solutions could usually only be realized through complex projects and thus high costs. The OXM200 2D multi-tool profile sensors now offer the possibility to check a large number of process steps quickly and easily. The calibrated profile sensors are quickly installed, immediately ready for use and can be adjusted in many ways with the integrated web browser, completely without external software. Thanks to Power-over-Ethernet (POE) functionality, the sensor can be used with a single cable.
The compact and lightweight all-in-one devices project a laser line onto the object to be inspected. The projected light is reflected from the object and imaged on the integrated camera inside the sensor. Thus a two-dimensional profile of the object's surface is measured. With predefined integrated measurement tools, dimensions of objects along the laser line (X-Z) can be measured and inspected. This allows extensive profile analyses for testing and inspection tasks like height checks of assembly parts, collision checks in assembly as well as control and positioning tasks in robotics like the position control of feed parts for pick-and-place applications or gap checks in car body construction. In addition to the large number of measurement options, the OXM200 profile sensors are particularly impressive due to their extremely simple operation via the integrated web interface. Up to seven measurement values can be freely configured with graphical support. In addition to the integrated measuring functions, the OXM200 profile sensors offer the possibility of linking measuring tools to perform even more versatile analyses. Even the inspection of objects on a conveyor belt with varying positions is no problem thanks to the position tracking. Another advantage is the live visualization of the measuring tasks in the web interface. Settings in the sensor can be directly checked, adjusted and optimized.
The large selection of interfaces and protocols (Profinet, Modbus TCP, UDP, IO-Link, analogue and switching outputs) allows fast and easy integration into automation environments. A direct connection to IT and cloud connections with OPC UA as well as to image processing systems with an SDK is also possible. In addition to the pure profile measurement function, the OXM200 sensors offer easy access to secondary data such as temperature or operating hours. These are the basis for process optimization and for increasing the overall plant effectiveness (OEE).