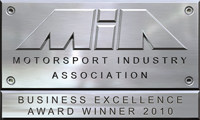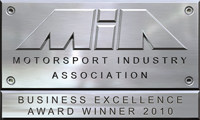 Stack won the prestigious Export Achievement Award at the recent Motorsport Industry Association (MIA) Business Excellence Awards Dinner At Autosport Show 2011, recognizing its continuing success in selling to markets overseas.
The award singles out Stack for outstanding sales performance beyond the UK domestic market, supplying customers in over 30 countries across the World. Despite being based in the heart of the UK's Motorsport Valley, the company has always sought markets overseas.
Over the last twenty years, Stack have exported more than 65% of their total sales, and have exceeded 75% of total sales in many of those years. The trend is even more encouraging: export sales grew by 31% in 2010 compared to the previous year..
Stack has always looked for opportunities to transfer their technology to other market sectors – diversifying into aerospace, mainstream automotive and military markets to increase overseas sales, in particular taking advantage of the MIA's Motorsport to Defence Initiative.
Alan Rock, Stack's Managing Director accepted the award and said later: "This award is great recognition for everyone involved, not only our employees in Bicester but also our world-wide network of more than 80 dealers. We work hard at building our export business – each year we show at 10 exhibitions overseas and have a sales office based in the USA."
Founded in 1984, Stack's success underlines the company's tradition of leading the way in the innovative use of new technologies and making Formula 1 technology accessible to all levels of motorsport, as well as other industries.
About Stack:
Stack Ltd. is a leading global supplier of Instrumentation, Data Acquisition and Video-Logging solutions including integrated driver display, tachometers, modular data acquisition systems, and powerful, easy-to-use DataPro analysis software.
www.stackltd.com
About MIA Business Awards:
The MIA Business Awards Dinner, which took place on 13 January 2011 at the NEC, Birmingham, recognises business excellence on all levels within the motorsport industry. The event concludes the first day of Autosport International and attracts over 500 people from across the world, providing a valuable business networking opportunity with leading companies from the motorsport industry.
The MIA invites the public to nominate companies or individuals for the prestigious awards through its website. Categories include Exporter of the Year, Teamwork Award, Business of the Year Award, Small Business of the Year Award, and the Technology & Innovation Award.
www.the-mia.com