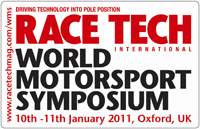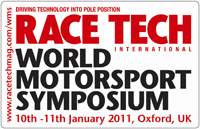 Stack received a special commendation at this year's Race Tech World Motorsport Symposium for its ground-breaking battery-less Tyre Pressure Monitoring System.
The commendation is in recognition of development and engineering work done by Stack in bringing the SAW (Surface Acoustic Wave) based product to market.
Based on patented SAW sensor technology, the problems associated with mounting batteries and complicated electronics in sensors on wheels have at last been completely eliminated.
"Stack's Battery-less Tyre Pressure Monitoring System has been singled out for a special commendation by the Awards Panel. It is exceptionally innovative technology developed in the UK by a well-regarded company" explained William Kimberley, editorial director of Race Tech magazine. "Running successfully in professional races in 2010, the Stack Battery-less system has shown itself clearly superior to existing battery systems – in robustness, performance, accuracy and potential to save costs. I believe that in the future – within 5 years – Battery-less TPMS, as pioneered by Stack, will become the industry norm for TPMS."
Stack's battery-less TPMS has been a success with both professional and amateur teams in Motorsport, attracted by the system's greater accuracy, enhanced reliability, lower weight and longer sensor life – significantly reducing lifetime running costs.
Alan Rock, Stack's Managing Director explained "A Tyre Pressure (and Temperature) Monitoring System is a proven safety device as well as a performance enhancer! An early warning of a tyre deflation can avoid a potentially serious accident, and the associated repair bill. A TPMS system also enables you to consistently run with the correct tyre pressures and temperatures, delivering a performance advantage in every level of motorsport".
Stack's Tyre Pressure Monitoring System continues the company's tradition of leading the way in the innovative use of new technologies and making Formula 1 technology accessible to all levels of motorsport.