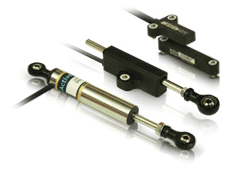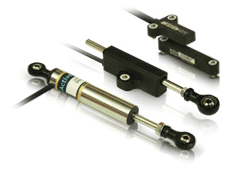 Active Sensors, the designer and manufacturer of precision sensing products has launched a NEW range of high performance Hall-Effect linear sensors with a superior measurement range of up to 60mm (2.4″).
Performance features
• Measurement range up to 60mm (2.4″)
• 150 deg.C (300 deg.F) operating temperature
• 56 different stroke lengths
• Superior contactless technology
• Single or dual output options
• Lightweight compact design
• Infinite life – no moving parts within sensor
LH sensors are available with single or dual 'independent' output options (redundancy). They are lightweight and compact in design and provide a versatile sensing solution for a variety of industrial, motorsport, medical and marine applications. The sensors comprises two parts, the sealed sensing circuit and a magnetic actuator. There is no electrical contact between the two parts (contactless), making the sensors ideal for control and monitoring systems that experience severe shock and vibration and suffer fluid and debris contamination.

Markets
• Industrial
• Motorsport
• Marine
• Medical
• Off-road vehicles
• Aerospace development
LH sensors operate from a 5V regulated or 8-30V unregulated supply and have built-in over-voltage and reverse polarity protection. The output signal is 0.5 to 4.5V and the operating temperature is an impressive 150 deg.C (300 deg.F). Sensor mounting options include body screws or spherical rod-end bearings. The sensors measurement range is specified by the customer when ordering (between 5mm and 60mm in 1mm increments).