Student engineers at the University of Sheffield are using a newly launched torque sensor from Sensor Technology's SGR510/520 range to predict the energy efficiency of their competition-grade electric car.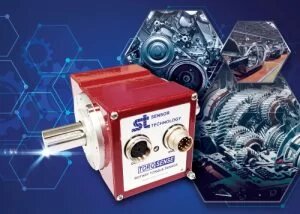 The TorqSense Digital rotary strain gauge series (SGR) torque transducer uses non contact technology eliminating the need for noisy slip rings. The SGR510/520 series torque sensors are suitable for torque measuring, testing, feedback control of drive mechanisms and process control applications.
The University of Sheffield has a long association with the Shell Eco Challenge, an event where student teams from around Europe compete to see whose electric car will cover the greatest distance on a single charge. In the wake of the event's Covid-cancellation, the young technologists alleviated their disappointment by developing a computer simulation tool for predicting their electric cars' energy efficiency.
"We have been developing our own computer simulation tools for predicting our electric vehicle's (EV's) energy efficiency," says student Lucy Edwards. "This has let us calculate our vehicle's competition score for the 40 minute/15km competition run."
To build the simulation tool, the students used their knowledge of engineering theory to create a mathematical representation of all the energy losses present in the car. A key piece of data was the motor efficiency curves, which were derives using a dual-purpose powertrain test rig and motor dynamometer. This was developed in-house and based around a TorqSense SGR521, the latest product from from Sensor Technology Ltd, Banbury based specialists focused on developing torque and load measuring technologies.
To put the competition into context, Shell Eco EVs (Electric Vehicles) achieve upwards of 800 km/kWh, whereas EVs on the road today may achieve only 15 km/kWh (at the same 25 kph). The competition EVs are, of course, ultra-lightweight, ultra-aerodynamic single seaters, with a driver chosen by weight, whereas road-going counterparts are better adapted to more casual and recreational purposes. The competition demonstrates the potential of electric propulsion and, over the years, has undoubtedly helped development of the technology.
Sensor Technology is a regular supporter of Shell Eco Challengers and over the years it has supported several teams from mainland Europe and now one from the UK. "The student teams basically need to run lots of tests on their drive motors and map out the results," explains Mark Ingham of the company. ""Our new SGR510/520 range fulfils all these requirements," says Mark. "It's only been on the market for a couple of months but is already proving itself to be a favourite in EV test labs around the world – and that is a rapidly growing market at the moment."
Key benefits of the SGR510/520 series include:
Transducers from 175mNm to 13000Nm
Large fully functional overrange capability of 250% (SGR520)
Minimal side and end load errors
Low linearity deviation of ± 0.05% FSD
Low hysteresis error of ± 0.05% FSD
Zero variation in torque signal with rotation (cyclic variation)
Non contact signal transmission, no slip rings to wear out
High digital sample rate of 4000 samples per second
Adjustable torque data smoothness, low pass filter (SGR520)
Speed measurement / Power computation
Wide power supply range 12-32 VDC
Compatible with ethernet gateway module
Lifetime Warranty
Mark continues "It is very gratifying to know we give young engineers at the start of their careers a solid grounding in such an important subject, which they will be calling on for decades to come."