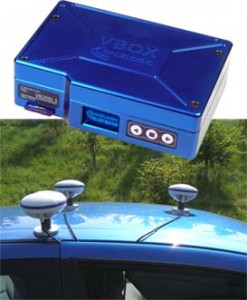 Racelogic Ltd, manufacturers of the award winning VBOX range of GPS-based performance analysers, are delighted to announce the introduction of the RLVB20SL3 20Hz GPS data-logger which can measure Pitch, Roll and Yaw (Slip) angles.
The new data-logger, features an advanced triple-antenna GPS engine with 20Hz update rate for highly accurate measurements of Speed (0.1km/h), Distance (0.05%), Acceleration (0.5%), simultaneous Slip, Pitch and Roll angle (Slip angle to 0.1° rms, Pitch and Roll angle to 0.25° rms), Yaw Rate (0.1°/s), True Heading (0.1°) and Lateral Velocity (0.1km/h).
The unit features a bright LED display screen, CAN bus, RS232 and USB interfaces, 2 x analogue I/O's, 2 x digital I/O's, data logging to SD card and is fully configurable via the front panel.
A voltage input range of 6V – 30VDC, combined with the small, lightweight construction and simple installation procedure, means that the VB20SL3 is ideally suited for use in many applications including cars, bikes, off-road vehicles and especially boats.
Julian Thomas, Managing Director of Racelogic, cited " Never before has it been so easy to measure Slip, Pitch and Roll angles from a single test set-up. By carefully optimizing the GPS system, we have been able to run without any other supplementary sensors and still maintain very useable accuracies."
The unit is supplied as standard with three magnetic "patch" antennas to facilitate the full range of measurements. If required, these can be upgraded to ground plane antennas (as shown in the picture) which are useful when you have little or no ground plane (e.g. motorcycle or boat) for an additional cost.
The price of the unit will be in the region of £7995 and offers significant savings in time and cost compared to previous measurement solutions for Slip, Pitch and Roll angle – please see your local distributor for any regional price variances.
For information on the VB20SL3, or any of the Racelogic VBOX range, please contact +44 (0)1280 823803, or visit www.racelogic.co.uk/vbox