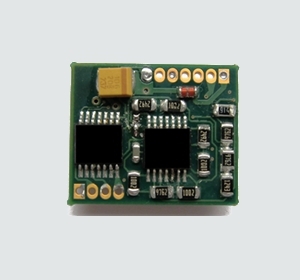 bf1systems, an engineering firm developing advanced electronics for the motorsport and aerospace industry, announced the testing of their dual gain intelligent amplifier ("intelliamp") has been successfully completed by a leading F1 team. The intelliamp will be used for all of the team's strain gauged push and pull rods in the 2012 season. After the testing was completed, a second F1 team contacted bf1systems about installing the intelliamp in their team cars.
bf1systems were originally approached by an F1TM team who wanted to analyse both dynamic loading (high loading) and aerodynamic balance (low loading) from a single strain gauge installation on each pull and push rod.
In addition to providing two separate outputs, the new amplifier also incorporates bf1systems' microprocessor controlled temperature compensation to ensure that the part's outputs are unaffected by changes in its ambient temperature. The intelliamp can compensate for changes in temperature from 10°C to 125°C, with multiple parts all containing calibration tables to ensure common outputs. This removes the requirement to enter part specific calibrations into the logger when components are changed.
The dual gain intelligent amplifier underwent extensive testing to ensure that it would operate in all the conditions which may be encountered on a race car. bf1systems also supplies both teams with its tyre pressure and temperature monitor systems and wiring harnesses.
"We are delighted with the results of the testing and that we were able to provide our customer with the additional measurements that they requested," said bf1systems' Mechanical Design Manager Simon Roberts. "The successful testing with this leading F1 team has resulted in a second F1 team signing up to use the dual gain intelliamp for the 2012 season."