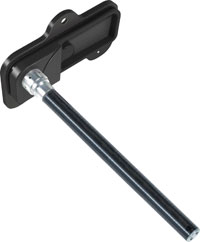 Gill Sensors, who currently supply a wide range of lightweight sensors to all leading F1, LMS and ALMS race teams, will launch a number of new and innovative products at the end of 2008.
CARBON-FIBRE LEVEL SENSORS
Gill has developed super-lightweight Carbon-Fibre Liquid Level Sensors for oil, fuel, bio-fuels and water. The addition of a carbon-fibre option for 2009 is anticipated to be popular, weighing as little as 45g with no other conditioning electronics required. The range-topping carbon-fibre sensors are available in full-custom configurations, maximising the potential to save weight on the installation.
ULTRASONIC FLOW SENSOR
Gill will also be showcasing their new Ultrasonic Flow Sensor, intended for on-car oil flow correlation with engine dynamometer performance. The new flow sensor is also anticipated to be compatible with water flow applications and, due to its performance and compact size, should prove to be a significant diagnostic tool for engine development engineers. The Gill Ultrasonic Flow Sensor will be launched at the end of 2008 with expected sales to begin March'09.
Both new products will be displayed alongside Gill's range of sensors at Professional Motorsport World Expo (Germany) on 11th-13th November 2008, Performance Racing Industry Show (USA) on 11th-13th December 2008 and Autosport Engineering (UK) on 8th-9th January 2009. For more information please visit their website at www.gillsensors.co.uk.