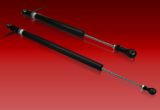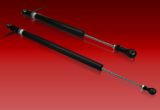 Australian V8 Supercars has grown to become one of the most popular and watched motor racing championships in the world. The racing between the Ford Falcon and Holden Commodore cars is high-powered motor racing at its very best. Walkingshaw Performance, the Holden Racing factory team, approached Magni-Tec Sensing Solutions to solve the problems they were experiencing with position measurement of the steering, anti-roll bar and suspension movement of their high-powered V8 cars. The team were using sliding contact linear potentiometers and the problems were two-fold, noisy output signals due to contact bounce and reduced sensor operating life as a result of the harsh environment.
As a renowned expert in delivering 'contactless' measurement solutions, Magni-Tec supplied the team with long-stroke MHL1326 contactless linear position sensors which operate with proven Magni-Hall technology. The sensor, which has a measurement range up to 200mm (8"), mounts and operates just like a potentiometer. It provides a versatile 'long-life' sensing solution for a variety of motorsport applications that experience severe shock and vibration, or suffer from fluid and debris contamination.
Nick Wills, the team's electrical engineer commented, "We are very happy with the MHL1326 contactless position sensors provided by Magni-Tec". He continued, "They are excellent compared to the contacting potentiometers we were using. They are a lot easier to use, require no servicing and provide us with very accurate, noise free readings compared to any position sensor we have used in the past".
The 'long-life' MHL1326 sensor is slim-bodied, lightweight and compact and sealed to IP68 & IP69K. It operates from a 5V regulated or 8-30V unregulated supply and has built-in over voltage and reverse polarity protection. The output signal over the measurement range is 0V – 5.0V. Mounting options including spherical rod-end bearings, quick-release ball-joints or body clamps. The customer can specify the measurement range when ordering (in 1.0mm increments).