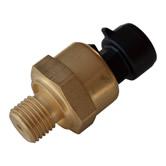 Variohm EuroSensor has launched a new competitively priced pressure sensor that suits most common gas and liquid media for relative pressure measurement up to 40 bar.
Built for volume production with pricing that OEMs will find compelling, the EPT2200 series features a thin film piezoresistive measuring element and is housed in a rugged and durable 22mm diameter brass casing with IP66 protection. The sensor is available with a choice of G1/4A or M12 pressure port options and 0..5V or 4…20mA output signals; electrical interfacing covers Packard Metri-Pack and Miniature EN175301-803-C connectors or a 600 mm free cable version – as with all Variohm sensors, custom options are available on request.
The EPT2200 is supplied in six pressure ranges from 6 bar to 40 bar with accuracy of +/- 1.0% at room temperature and stability of better than +/- 0.1%. The resilient sensor is suitable for use in harsh industrial environments and is compatible with many medias including oil and compressed air for automotive, HVACR, agricultural and other demanding applications areas. A generous shock and vibration rating and operational temperature range from -40° to +105°C ensures high reliability whilst overrange and burst pressure capability of 2x and 5x respectively (up to max. of 69 and 103 bar) permit safe use over its expected life of more than 10 million pressure cycles. Short circuit and reverse polarity protection is also included.
The EPT2200 design, with a monolithic sensor element that contains no silicone oil and no internal O- rings, is based on and has a similar environmental specification as the well proven stainless steel housed EPT2100 series but has been optimised for large production runs. The new sensor joins a large range of Variohm pressure transducers and transmitters that have been designed specifically for applications with demanding price and performance requirements. The range covers a wide choice of port configurations – including flush diaphragm types – and availability in highly resilient stainless steels and engineering polymers, for pressure measurement from 500 mbar to 4000 bar.